You turned the nation purple on One Big Day – now it's time to celebrate YOU!

PanCAN President and CEO Julie Fleshman, JD, MBA moderates this event, featuring photos, videos and stories of Striders coming together in communities across the country on One Big Day.
Hear about the impact your participation and fundraising make in the lives of pancreatic cancer patients and their families.
Watch PanCAN PurpleStride ambassador Mindy Kaling deliver a special message.
Look forward to the year ahead, including the date for PanCAN PurpleStride 2023!
PanCAN PurpleStride is the ultimate event to end pancreatic cancer and the No. 1 way PanCAN raises money to fight pancreatic cancer in a comprehensive way. Thank you for your hard work and we'll see you at PanCAN PurpleStride 2023!
WATCH RECORDING
There's still time! Donate to PanCAN PurpleStride today to help pancreatic cancer patients thrive. Donate at www.purplestride.org
Featuring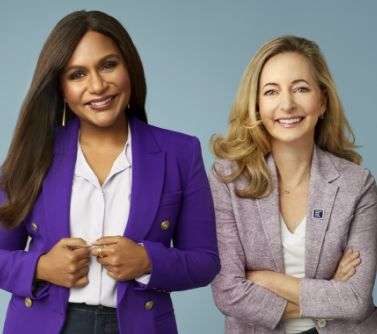 Mindy Kaling
Mindy Kaling is an actor, writer, and producer with six combined Emmy wins and nominations for writing and acting. She was the creator and star of the show "The Mindy Project" and is a co-creator of the Netflix series "Never Have I Ever."
Julie M. Fleshman, JD, MBA
PanCAN President and CEO, leading the way for more than two decades in PanCAN's approach to take bold steps to make progress in pancreatic cancer research and improve patient outcomes.
THANK YOU TO OUR PANCAN
PURPLESTRIDE 2022 NATIONAL SPONSORS

Open form
THANK YOU
We're looking forward to celebrating what you accomplished on One Big Day at PanCAN PurpleStride 2022 and how your participation and fundraising will make all the difference in the lives of pancreatic cancer patients and their families. Add this event to your calendar and save pancan.org/celebration2022 for PanCAN PurpleStride: One Big Celebration on Tuesday, May 17, 2022 at 4 p.m. PT / 7 p.m. ET. Add to Calendar
(If you're prompted to download an iCalendar file, save it to your device and open it)
Open success
START WATCHING
Enter the email address you used to RSVP for the event.
DIDN'T RSVP? Sign up now and get immediate access to the event.
Open success