When we wage hope, we make progress.
Ours is no passive hope. It is a relentless call to action. It is the expectation that change is coming. A rallying cry to change the course of history and rewrite the book on how we fight pancreatic cancer.
For the past 15 years, we've attacked this disease on all fronts using a comprehensive strategy of funding private research, advocating for increased federal research funding, providing support to patients and raising awareness nationally. We've created an unstoppable movement. Together with our volunteers and supporters, incredible things have been accomplished. But there is still a great deal of work to be done. We will Wage Hope to reach our goal of doubling survival by 2020.
RESEARCH & SCIENTIFIC AFFAIRS
Fifteen years ago, there were only a handful of researchers focused in pancreatic cancer. Today, hundreds are working to find an early-detection method and develop new treatments.
In 2013-2014, we awarded 16 research grants totaling more than $5 million.
Since 2003, we have awarded 110 grants totaling nearly $23 million.
Our grantees leverage every dollar we invest in them into nearly $10 in additional pancreatic cancer research funding, demonstrating both the scientific merit of their work and their commitment to the field.
Additional numbers from our research investments:
813

Our grant recipients have authored 813 published pancreatic cancer-related papers.

6,285

Our grantees' published papers have been cited 6,285 times in other publications.
GOVERNMENT AFFAIRS & ADVOCACY
Fifteen years ago, there was almost no federal funding for pancreatic cancer. Today, a new law enabled by our supporters has resulted in a scientific framework that outlines national priorities for making progress in the disease.
Funding from the NCI has increased 501% since 1999.
Advocacy Day 2014 drew 450 advocates from all 50 states to Capitol Hill.
To support our in-person visits on Advocacy Day, 878 people placed 2,180 calls to their Congress members asking for increased federal funding for cancer research.
ADDITIONAL NUMBERS FROM OUR ADVOCACY EFFORTS:
$105 mil

NCI funding for pancreatic cancer research has increased from just over $17 million in 1999 to nearly $105 million in 2012.

6,241

6,241 advocates sent 16,684 email messages to their elected officials this year.

We spearheaded the formation of the Congressional Caucus on the Deadliest Cancers.
PATIENT AND LIAISON SERVICES
Fifteen years ago, newly diagnosed patients and their families had no place to turn to get information and support. Today, our Patient and Liaison Services (PALS) program serves more pancreatic cancer patients and their families annually than any single institution in the world. Since 2002, we have touched the lives of 90,000 people.
PALS served more than 11,000 patients and families this year.
The number of clinical trial searches we perform has increased by 55% over the past three years, due to our outreach and education efforts.
Clinical trial searches through PALS yield a 14% enrollment rate, in contrast to the national enrollment average of 4.5%.
ADDITIONAL NUMBERS FROM PALS:
+20%

We've seen a 20% increase in the number of clinical trials searches in 2013-14 vs. 2012-13 (2,613 vs. 2,185).

10

We hosted 10 in-person educational events and 6 educational webinars in 2013-14.

555

555 people attended our in-person educational events.

97%

The average quality assurance score for the services PALS Associates delivered, the helpfulness of materials provided and the timeliness of the receipt of materials was 97%.

98%

98% of respondents "feel more knowledgeable" after speaking with a PALS Associate.

87%

87% of respondents "feel better prepared to cope with the disease" after speaking with a PALS Associate.
Community Outreach
Fifteen years ago, awareness of pancreatic cancer was dismally low. Today, tens of thousands of people participate in our PurpleStride® and PurpleLight events to draw attention to our cause. Attendance has increased by 37% in just the last year.
In 2013-14, 112,271 people participated in our events, compared with 81,878 the previous year.
We held 139 Community Outreach signature events this year.
Our volunteer-led signature events raised $11.3 million – an increase of $1.4 million over last year's total.
ADDITIONAL COMMUNITY OUTREACH NUMBERS:
363

We have 363 volunteer leaders in 89 communities around the country.

382

382 signature event sponsors contributed $1,485,490 in sponsorship support.

1,197

1,197 pancreatic cancer survivors participated in PurpleStride events.

$9.3 mil

Company and community teams raised $9.3 million this year at our signature events.

$1.3 mil

Community Ambassadors raised nearly $1.3 million through third-party fundraising events.

850 mil

Volunteers across the country shared their stories and generated nearly 1,400 media hits with a reach in excess of 850 million impressions.
Now is a revolutionary time for the pancreatic cancer scientific community, with great expectations for significant progress in treating this daunting disease. We are extremely grateful for our passionate supporters who have given so much – time, energy and generous donations – to this cause. And we eagerly look forward to a brighter future as we all Wage Hope together.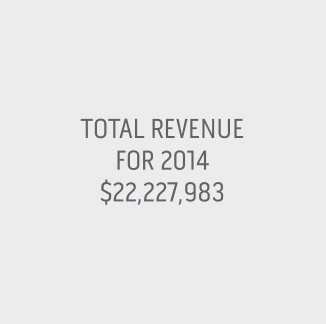 Revenue by Source 2014
51% Volunteer-driven Events
33% Individual Giving
9% Corporate Giving
4% Investments and Other
3% An Evening with the Stars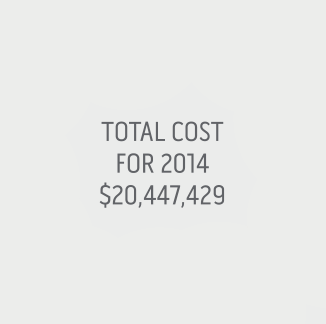 Cost Distribution 2014
36% Research
26% Community Outreach
14% Patient Services
10% Fundraising
9% Advocacy
5% General & Administrative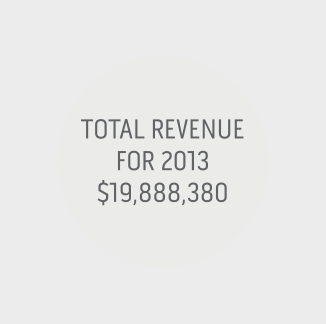 Revenue by Source 2013
49% Volunteer-driven Events
31% Individual Giving
14% Corporate Giving
1% Investments and Other
4% An Evening with the Stars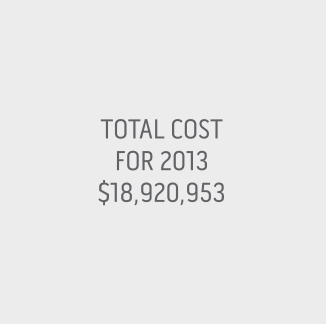 Cost Distribution 2013
37% Research
25% Community Outreach
14% Patient Services
9% Fundraising
12% Advocacy
3% General & Administrative