Survivor Story: Clinical Trial Participant - Steve Kelly
06/13/2014
Written two days before Father's Day
Father's Day 2014 will be truly amazing.
If I burn the burgers, no sweat; we'll order pizza.
If it rains from dawn to dusk, oh, well, my lawn will look great.
A so-so tie from the kids? I'll wear it all day with a favorite well-worn T-shirt.
You see, a year ago the odds of me being here today were about 1 in 4. Two weeks after running in the 10-mile 2013 Broad Street Run in Philadelphia at a clip 6 minutes faster than the year before, I started on a diet of common over-the-counter drugs to quell stomach pains. If it was only that simple. A succession of doctor visits ensued, each more alarming than the previous. Then came the phone call on the morning after Father's Day: "The diagnosis of cancer cannot be ruled out."
A handful of days later, my wife and I were sitting in a bland consultation room at a university cancer center. "All I want is a chance," I told her before entering the room. A few minutes later, a doctor told us I had stage IV pancreatic cancer with spots on my liver. I managed a couple of elementary questions before we fell into silence and the doctor excused himself from the room.
We were expecting bad news, but this was numbing. The car ride home was mostly quiet except for a few words about our daughters, then 19 and 15. We were determined to keep things as normal as possible for them going forward. We would attend two graduation parties the following day.
So began a year as a cancer patient that I doubted would last that long.
I got to work quickly, trimming back my bucket list and planning my funeral. Where should I have my ashes sprinkled? But a funny thing happened on the way to the cemetery. The funeral procession stalled.
Today, I marvel that I'm still here. I credit a blend of dumb luck, divine intervention, the wonder of science, and, above all, people power – an army of brilliant doctors, caring nurses, devoted friends and loving family.
It took the better part of the last 12 months, but I've come to grips that there's no explaining my illness. I'm a fit 54-year-old non-smoker who is a model of moderation, chocolate chip cookies and chocolate shakes aside. I fully understand that my good fortune could be running out right now, but I've learned to live with that reality. I can even go hours without thinking that I have cancer. Those are the best times. I am not afraid of dying, but the thought of not living frightens the heck out of me.
A week before that stunner at the university, the doctor who performed my biopsy set the stage for my assault on cancer. She knew the odds were stacked against me even before I did. "Whatever you do, go aggressive," she said, frightening the heck out of my wife. But at least we had our marching orders. Today I'm grateful she didn't mince words.
We were exploring treatment options at regional hospitals when I divulged my illness to my boss at work. He put me in touch with a world-renowned cancer researcher in Baltimore.
We talked on the phone for about 10 minutes. He did most of the talking. In a weeks-long daze, I did my best to follow along. He mentioned a promising vaccine under development that caught my attention. My stage IV cancer was not a perfect fit for the vaccine trial, but it offered a sliver of hope down the road. For the first time in weeks, I talked to a medical professional and thought about the future. But first my cancer had to be brought under control.
I heeded my biopsy doctor's advice and joined an uber-aggressive trial that consisted of three standard-of-care chemotherapy drugs and a fourth that was not typically used to treat pancreatic cancer. It didn't take long before I began feeling the ill effects from being infused with the toxins two out of every three weeks. Digestive issues and fatigue made life miserable. I went a week without sleeping because of a reaction to painkillers. Walking down our driveway to retrieve our newspaper left me breathless. My appetite waned, despite my wife's best efforts to cook something, anything, that appealed to me.
In late July, after my second cycle of treatment, I could barely lift my head off the pillow. Weakness ran down my neck and shoulders. Then the cavalry showed up at my home in the form of three friends who have known me since I sported a hairstyle like Bernie from Room 222, the 1970s television series. We didn't do much that day. We laid around, watched the British Open, had a bite to eat, and engaged in some typical verbal jabbing. Somehow it did the trick. The next morning, and each morning thereafter, I slowly regained some strength.
By the time I made the trek to Baltimore for my next treatment with a friend who was accompanying me, I was feeling combative. I blurted out, "Why not me? Why the heck not me?" When a nurse started my chemotherapy drip that day, I cheered on the drugs.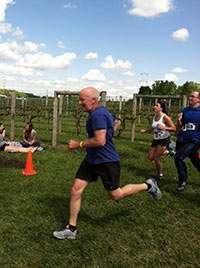 Steve Kelly competing in a 5K one year after being diagnosed with pancreatic cancer.
Acts of kindness carried us through the summer and into autumn. Full-course meals awaited us after 13-hour treatment days. Friends pitched in on yard work I wasn't up to. My deck was even refinished. Seven hundred miles away, upwards of 30 in-laws and their friends donned #KellyStrong T-shirts and ran in a half-marathon in Grand Rapids, Michigan. Talk about a shot in the arm, the uplifting type.
All the while, my body seemed to come to grips with the new normal, and, thanks to my clinical nurse, I gained a better understanding how to manage all the side effects caused by the chemotherapy, painkillers and anti-nausea drugs. I am grateful she was assigned to my case. Beyond all her expertise she possesses a gift that any superhero would envy: the ability to say the right thing at the right time, every time. Imagine that.
Our brutal winter was especially hard on me. My illness and treatment left me anemic and chilled. I wore layers – in the house. Watery eyes and a runny nose developed into a two-night hospital stay. I felt so lousy I was actually glad to be there. Worst of all, the chemotherapy depleted my immune system, and I was forced to forego dosages of the drugs that to that point had been producing excellent results.
My tumor had been reduced in size by as much as 80 percent, and my doctors informed me that fortunately, my tumor was on the outer edge of my pancreas and the organ was functioning properly. I informed them that I had stopped taking my painkillers several weeks earlier. My doctor and his team managed my care, lowered my dosages and got me through the winter.
Springtime brought another round of CT scans. A feeling of apprehension always permeates screening days, but this one brought a little added stress in wake of my aborted cycles and reduced dosages. Then my doctor reported, "The tumor is invisible on the scan. It's a complete response." Talk about a tension breaker. Why not me, indeed. Tears, hugs, smiles and joy filled the room. I couldn't help but think of that numbing day last June.
By all means, I understand I remain a cancer patient. I've simply repelled the enemy within for the time being.
Last month I started on the vaccine clinical trial that motivated me 10 months earlier. It employs dead cancer cells and a bacteria to rev up my immune system. The science is astounding. I have faith in the doctors that have gotten me this far and in the assumption that sooner rather than later these dedicated professionals will develop cures for cancer. I would love to be here when it happens.
The past 12 months have been illuminating to say the least. Coping with cancer is truly life-changing – you hear, see, and feel everything differently.  I believe that I now treat people better today than I did a year ago; you never know what issues the person in the car next to you or in the grocery line ahead of you might be contending with.
As for the immediate future, I won't be adding to my bucket list. I'll be quite content if I get to move my older daughter in for another year of college and watch my younger one give opponents twice her size more than they can handle on the athletic fields. Chopping down another Christmas tree would be pretty cool, too. I better not get ahead of myself, though, I have some burgers to cook.
A version of this story also ran in The Philadelphia Inquirer on June 15, 2014.
A quick update from Steve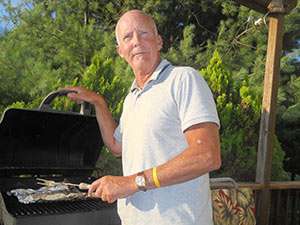 Steve Kelly swears he did not burn the burgers on Father's Day.
Little has changed since my Father's Day story ran in
The Philadelphia Inquirer
and appeared on pancan.org, and that's a good thing.
I am in the thick of my new immunotherapy clinical trial, and so far, so good. The side effects are minimal, but more importantly, my latest CT scans came up clean in late July. I was quite nervous heading into that day because it had been 3-plus months since my chemotherapy trial ended.
We're enjoying our summer, which is going much too fast for my liking. It's been great having my college student home, watching my high school lacrosse player compete in tournaments and spending a week at a North Carolina beach. Soon we're heading to Costa Rica for an adventurous week in a volcanic region and more beach time on the Pacific Coast. It will be awesome to enjoy that trip with a clear head.
We've hosted and attended a few barbeques with family and friends, too. And if you're wondering, no, I didn't burn the burgers on Father's Day. Be well.
See All Stories