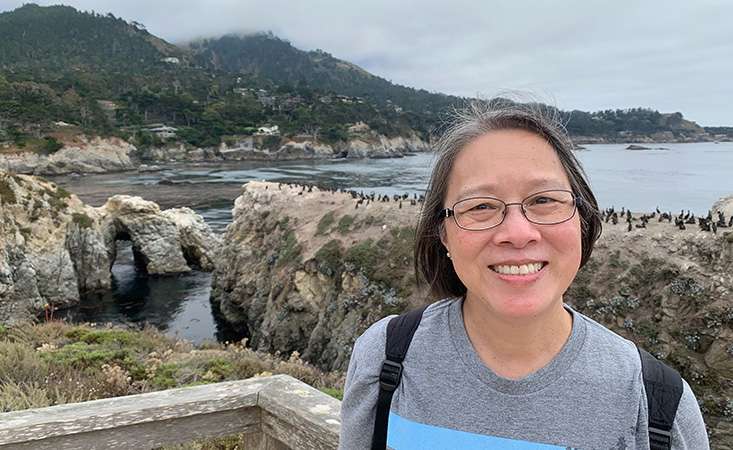 One Friday evening, my colleagues beckoned me to join them at a work celebration. I accepted the invitation and found that I particularly liked the pink champagne. After weeks of suffering from what I thought was the stomach flu that had been going around the office, the situation took a turn for the worse. By Monday morning, when I looked in the mirror, I was shocked to see that I was jaundiced. I immediately went to the emergency room. After several tests and a stressful week-long wait for the results, I was told that I had pancreatic adenocarcinoma – a diagnosis of cancer.
I wondered, How could this be happening? And I worried, Would I live long enough to watch my daughters graduate from college? Or be around to help plan my children's weddings one day or spoil future grandchildren? What about my dream to see the Northern Lights, watch Old Faithful or go on an African Safari?
With all these thoughts swirling around my head, I was then referred to an oncologist. He said I shouldn't wait too long to begin treatment since if I did nothing, I would most likely be gone in just a few months. I agonized over immediately scheduling the surgery or going on a planned vacation first as the operation was complex and the outcome uncertain. I decided to take the Alaskan cruise and make memories with my family in case the unthinkable should happen.
I was lucky to be eligible for the Whipple procedure, as only about 20% of pancreatic cancer patients are eligible for surgery. After a weeklong hospital staycation napping, watching movies and sampling foods – the lemon ice was delicious! – I was ready to have my family take me home. Nearly a month later, when I was mostly recovered, I started chemotherapy.
Following my diagnosis, I did a lot of research and learned about the Pancreatic Cancer Action Network. PanCAN is dedicated to fighting the world's toughest cancer. In 2011, PanCAN pledged to help double the 5 year survival rate of pancreatic cancer patients by 2020 and with their support, it has increased from 6% to 10%! Against all odds, I am one of the few survivors and have participated in PanCAN's PurpleStride Silicon Valley 5K walk for the last four years. Donations help pay for research, clinical initiatives, patient services and advocacy. Our support enables scientists to discover new ways to detect and treat this deadly disease.
While we all know we will face death one day, never has it seemed so real. For a cancer patient, and especially pancreatic cancer, the timeline may be months or a mere handful of years. On the bright side, at least I probably don't have to worry about outliving my retirement savings.
But seriously, living with cancer, or dying of cancer – a positive attitude may help with long term survival. Marilyn Horne, an American Opera singer diagnosed with pancreatic cancer in 2005, said it's not just "I want to live," but "I'm going to live!" I feel well more often than not and am thankful for each day.  Each day I try to spend time doing activities that are important or enjoyable such as reading, hiking or volunteering and not let health issues define me.
Any treatments, including clinical trials, mentioned in this story may not be appropriate or available for all patients. Doctors take many things into account when prescribing treatments including the stage and type of cancer and the overall health of the patient.