Need Help?
If you have technical issues or a general question about the event, contact us at 877‐573‐9971, Mon ‐ Fri, 8 a.m. to 5 p.m. PT, or events@pancan.org.
Contact PanCAN Patient Services
for answers to any questions you have about pancreatic cancer, treatment options and more. Our expert case managers are here from 7 a.m. to 5 p.m. PT, Monday through Friday, to help.
FEATURING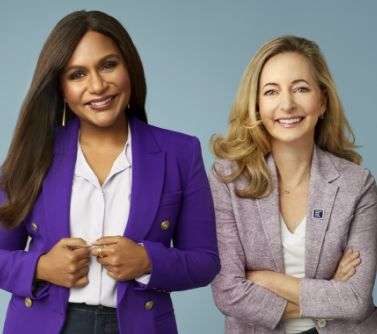 Mindy Kaling
Mindy Kaling is an actor, writer, and producer with six combined Emmy wins and nominations for writing and acting. She was the creator and star of the show "The Mindy Project" and is a co-creator of the Netflix series "Never Have I Ever."
Julie M. Fleshman, JD, MBA
PanCAN President and CEO, leading the way for more than two decades in PanCAN's approach to take bold steps to make progress in pancreatic cancer research and improve patient outcomes.
THANK YOU TO OUR PANCAN
PURPLESTRIDE 2022 NATIONAL SPONSORS