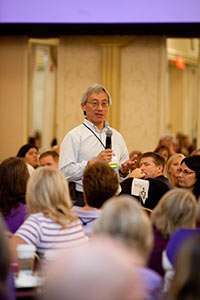 Channing Der, PhD (2012 Tempur-Pedic® Retailers Innovative Grant recipient), speaks at advocacy training.
Among the hundreds of participants at the Pancreatic Cancer Action Network's Seventh Annual Advocacy Day were 15 scientists and healthcare professionals, representing 11 states across the country. Current and former research grant recipients, members of our Scientific and Medical Advisory Boards and other researchers passionate about the disease and our cause were in attendance.
This year, our message for Congress was direct: we need a permanent fix to sequestration and we need to maintain sustained adequate funding for the National Institutes of Health (NIH) and the National Cancer Institute (NCI). Who better to deliver that message than the individuals who will be most impacted by budget cuts? Due in large part to the comprehensive approach taken by the Pancreatic Cancer Action Network, the research and clinical communities have built up a great deal of momentum in the fight against pancreatic cancer. It is imperative that they continue to receive sufficient resources to continue and expand upon ongoing efforts.
In addition to the opportunity to receive valuable advocacy training and participate in meetings with legislators, the researchers in attendance were also showcased in a "Meet the Researcher" booth. And Jonathan Brody, PhD (recipient of the 2010 Skip Viragh Career Development Award), and Michael (Tony) Hollingsworth, PhD (member and former chair of our Scientific Advisory Board), co-led two breakout sessions highlighting recent advances in pancreatic cancer research. The attendees are always grateful for the opportunity to learn more about research in the field, and to be able to ask questions of the scientists and clinicians who are on the frontlines of this disease. The gratitude is reciprocal: Dr. Brody commented that his participation in Advocacy Days over the years is always "truly a gift and an honor … an invaluable experience."
Even after our monumental victory of getting the Recalcitrant Cancer Research Act passed earlier this year, it is as important as ever to have our voices heard on Capitol Hill. We cannot allow potentially lifesaving research to be stalled and must continue advocating for sustained funding to allow our dedicated research community to continue their work.
| | |
| --- | --- |
| At the "Meet the Researcher" booth, David Boothman, PhD (left, standing; 2012 George & June Block Foundation Innovative Grant recipient), and Jordan Berlin, MD (Chair, Medical Advisory Board), address advocates' questions. | Michael Goggins, MD (right; principal investigator of the 2013 Skip Viragh Inaugural Research Acceleration Network Grant), poses on Capitol Hill with a fellow Maryland advocate. |