Standing Proud Among Heroes.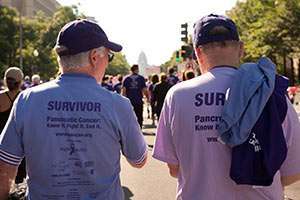 PurpleStride Washington DC participants head toward the US Capitol Building
It hit me as I was standing by the starting line.
Runners, who had been huddled waiting for the blast of the start horn, sprinted down the road. They were followed by a seemingly endless stream of walkers wearing purple shirts, hats, socks and even tutus, and holding handmade signs decorated with photos and glitter. Children ran ahead, couples held hands, and the air buzzed with voices, music and hope.
On June 15, I witnessed something remarkable: the largest PurpleStride event in the history of the Pancreatic Cancer Action Network, taking place in Washington, DC. The event broke both attendance and fundraising records, with nearly 5,000 supporters raising over $760,000.
Standing on a crowded Pennsylvania Avenue, watching thousands of walkers and runners, I realized in that moment that each step they took had a purpose. I was inspired and proud of the impact we are all making together.
When I get into my car to drive to work at the Pancreatic Cancer Action Network, I feel a sense of purpose as well, knowing that I'm contributing to a cause I feel passionate about. But it wasn't until I was 3,500 miles from home, in the midst of thousands of people striding toward the same goal, that I was able to see the full scope of our organization's efforts. I took a step back to soak it all in and had this thought:
We are making progress toward ending pancreatic cancer.
Even before the race began, I saw hundreds of volunteers arrive before dawn to set up tables, unpack boxes and assemble tents. I witnessed Boy Scout Troop 149 standing in the sun for hours to pass out water to thirsty runners and walkers along the route, only to return to the event village with nothing but smiles to help pack tables and clean up trash.
And I will always remember Ashley Anderson, a 26-year-old pancreatic cancer survivor and a special guest at the event, who had been released from the hospital only days before and who now looked exuberant and hopeful talking to other participants. And the woman who travelled from the West Coast to run the 5K in memory of her mother; I saw her cross the finish line with a huge smile across her face and tears streaming down her cheeks.
All of these moments are part of a community that is making progress, and I'm proud to be a member.
I'm also proud to be part of this critical movement to double the pancreatic cancer survival rate by 2020. And to see the power of this effort in our nation's capitol was truly breathtaking! For over an hour I saw thousands of people cross the starting line and head down toward the US Capitol, and all I could think was, "We are doing it. We are making progress. We will beat this!"
I want to thank everyone who played a role in PurpleStride Washington, DC — volunteers, participants, survivors and donors — for allowing me to be part of a record-setting day that I will never forget. I am honored to be a member of a community that strides toward its goal with such passion and intention. I am proud to be surrounded by heroes every day.
Michelle Flude
Staff member, Pancreatic Cancer Action Network
Manhattan Beach, CA