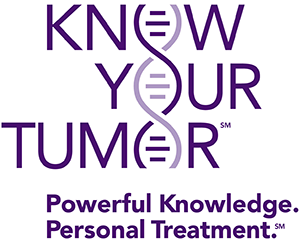 Spreading awareness of the importance of clinical trials in making progress toward treatment breakthroughs is important year-round. But during National Pancreatic Cancer Clinical Trials Awareness Month in January, we are intensifying our efforts to make patients and their physicians aware of the many important services our PanCAN Patient Services provides, including personalized clinical trial searches and our innovative Know Your Tumor service.
Know Your Tumor is a personalized medicine initiative that provides pancreatic cancer patients and their oncologists with information about the biology of their specific tumor. Testing a tumor to understand what makes it unique is called "molecular profiling." This information can be used to identify treatments that may be beneficial to the patient, including clinical trials.
Patients must meet qualifying criteria to be eligible for Know Your Tumor. They must have stage 4 (metastatic) pancreatic adenocarcinoma, and they must have started, or be about to start, treatment for their metastatic pancreatic cancer. Other criteria may apply.
In addition to the possibility of determining more targeted treatment for individual patients today, the Know Your Tumor initiative will collect the aggregate data from the molecular profiles of thousands of patients. The accumulated information will assist researchers in the coming years to design better clinical trials for the pancreatic cancer community.
"We encourage patients or their loved ones to contact our PanCAN Patient Services team to learn more about their options, including clinical trials and the Know Your Tumor service," said Anitra Engebretson, director of patient services and medical relations. "Each PanCAN Patient Services Case Manager is highly trained to discuss the complexities of pancreatic cancer and its treatments. PanCAN Patient Services takes a personalized approach, and each patient gets unique support that is only found here."
The Pancreatic Cancer Action Network is driven by its goal of doubling survival for this disease by 2020. Participation in clinical trials and Know Your Tumor contributes to finding the best treatment options and to achieving this goal.  Contact PanCAN Patient Services at 877-272-6226 or by completing our contact form.