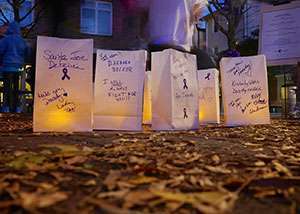 On March 1, communities across the United States will once again glow purple at the Pancreatic Cancer Action Network's PurpleLight events.
This past October, more than 20,000 people participated in PurpleLight gatherings throughout the country. Next month, many communities that did not hold PurpleLight events in the fall will take the opportunity to shine a light on our cause as spring approaches.
Locally coordinated by dedicated volunteers, PurpleLight events highlight the unwavering strength of individual communities. Besides creating local awareness, the events give participants a venue where they can stand together as part of a larger community working to change the course of pancreatic cancer. As participants join together to hear the names of their loved ones and illuminate glow sticks in their honor, they know that thousands of others are doing the same thing, sending a powerful message of solidarity.
"PurpleLight holds a special place in my heart; I love this awareness event, as it brings people together in a different capacity than PurpleStride," said Stephanie Blash, PurpleLight Chair with the Northern New Jersey Affiliate. "PurpleLight is a time for people to come together to honor those who have been affected by pancreatic cancer and celebrate their lives, whether they are in the fight or have been lost to pancreatic cancer. It is always an emotional event that brings strangers closer and reminds everyone why we are fighting this incredible fight."
Said Lisa Liu, a key volunteer with the Silicon Valley Affiliate, "The PurpleLight naming ceremony is a beautiful way to honor my brother and to meet others affected in some way by this disease. Our loved ones bring this community together to reflect on how we might give others hope."
As one way to extend the hope and comfort of the PurpleLight experience to others, people who crack glow sticks at the March 1 events (and others) are invited to place purple pins of hope to honor their loved ones on a map of the United States at purplelight.org/purplepinsofhope. The interactive map creates a compelling representation of the national community of hope that comes together in support of one another and a common cause.
Register now for an event near you! Attend a PurpleLight event to honor, inspire and remember each and every person affected by pancreatic cancer.