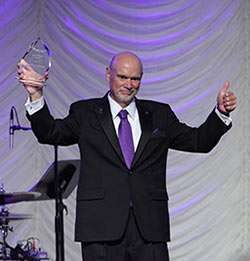 Larry Clark accepting the Spirit of Hope Award
Veteran Government Executive, Survivor and Clinical Trial Participant
During his 40-year government career, retired Rancho Palos Verdes Mayor Larry Clark served as an executive within the Air Force Space & Missile Systems Center, National Reconnaissance Organization and the North Atlantic Treaty Organization (in Europe). Clark's adeptness at dealing with sensitive and complicated issues in those roles led him to later take on the challenges of working in local and state government. But last spring, when pancreatic cancer entered this dedicated Department of Defense executive's life, it brought with it a whole new meaning to the word challenge.
Clark would have preferred not to face this foe, but is accustomed to hard work and is fighting pancreatic cancer with the same intense focus he gave to his career. And beyond his own fight, he has become dedicated to building broader awareness about pancreatic cancer. His commitment to the cause earned him the Pancreatic Cancer Action Network's Spirit of Hope Award, for which he was recognized during last month's "An Evening with the Stars" gala. "It was a magical night," Larry recalled, "One I will never forget."
Still a leader
Larry Clark continues to lead by example, and can now add "pioneer for progress" to his lengthy biography because of his participation in a clinical trial. After a successful surgery to remove his tumor, Clark learned that he qualified for a Phase III clinical trial of a vaccine designed to treat those who have had surgical removal of a pancreatic cancer tumor. The goal is to learn if this vaccine can help keep the cancer from returning.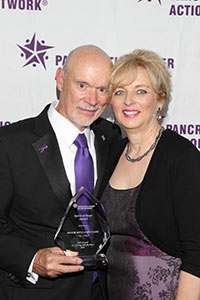 Larry Clark and wife, Becky, at An Evening with the Stars gala
"With this disease I am willing to do whatever it takes to try and remain healthy and to give the scientific community the arsenal of information required to make treatment advances," Clark said.
After meeting the specific criteria to qualify for this clinical trial, Clark was randomly selected (by computer) as one of the patients to receive the investigational treatment. Results will be compared to another group of patients who receive the current standard treatment.
Clark has been receiving vaccine injections for six months, combined with his post-surgery chemotherapy. The treatment is tough, but Clark exudes gratitude rather than focusing on the difficulties. He remains upbeat, crediting his doctors with his progress and his wife with his emotional health. "I am amazed at how I am feeling now," Clark adds. "I have come a very long way in my 'new life'."
Now that enrollment is complete in this particular vaccine trial, the Pancreatic Cancer Action Network is following trial progress very closely, and plans to keep the pancreatic cancer community informed about the results.
Meanwhile, there are many other novel treatments being studied in clinical trials around the country, including other vaccines. The Pancreatic Cancer Action Network maintains a robust database of all pancreatic cancer clinical trials in the U.S. If you would like to know more about current clinical trials that may be suitable for you or a loved one, contact a PanCAN Patient Services Case Manager by calling 877-272-6226, Monday – Friday, 7 a.m. to 5 p.m., Pacific Time, or by completing our contact form.