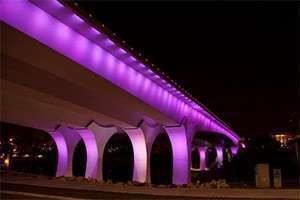 On October 26, more than 45 cities across the country will turn purple for the Pancreatic Cancer Action Network's PurpleLight 2014. PurpleLight is an opportunity to honor survivors, inspire those that are battling the disease and remember loved ones lost to pancreatic cancer. Parks, city venues and courtyards will illuminate as participants crack purple glow sticks as the names of their loved ones are read aloud during the name-reading ceremony.
PurpleLight events ignite hope in the fight against pancreatic cancer. As attendees light the night sky, they find comfort in the fact that they stand with thousands of others across the nation who are helping to change the course of this disease and double survival.
Since the program's inaugural year in 2011, PurpleLight has continued to grow and evolve, while still staying true to its purpose of bringing people together and building a national community of hope.  In 2011, 52 PurpleLight events were held across the country, and this fall and spring, a total of 80 will take place. Holding PurpleLight events at two different times of the year lets communities bolster local awareness of pancreatic cancer twice in a year's time, through PurpleStride in one season and PurpleLight in another.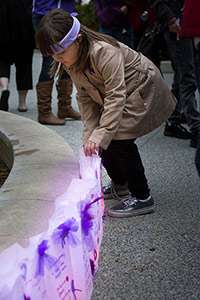 All PurpleLight events are coordinated by dedicated volunteers, who rally their respective communities and actively pursue participation and donations. Sometimes local sponsors step up to help fund PurpleLight events, and one sponsor, Purdue Pharma, is supporting the program on a national level. Sponsorships from companies, institutions or individuals are still most welcome for upcoming fall and spring events.
While PurpleLight is a national program, the events highlight the incredible strength and individuality of each community and its members. Each event features a local speaker who shares their story of how they have been affected by pancreatic cancer.
"Listening to the survivors speak gives each one of us hope that with advances in research and treatments, we will save many lives in the future," said Rebecca Shanahan, a key volunteer with the Las Vegas Affiliate.
As the ceremony continues, names of those fighting the disease and those who have lost the fight are read aloud.  As the names are read, the participants crack purple glow sticks, and the crowd becomes a sea of purple lights, creating a powerful image of solidarity.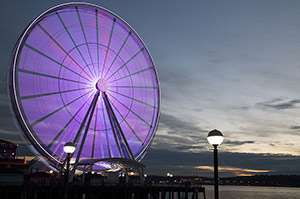 "When the first name gets called from that ever-growing list, a silence occurs. The sound of cracking glow sticks breaks that silence. This sound lets the rest of us know that despite all the sadness and heartache, we are not alone," said Natalie Hanway, a key volunteer with the Omaha Affiliate.
One of the most compelling aspects of PurpleLight is seeing the pancreatic cancer community across the nation come together in support of a common cause and in support of one another. To help show the magnitude of all the purple glow sticks cracked on October 26, PurpleLight participants are invited to place a purple pin of hope to honor loved ones on a special web page at purplelight.org/purplepinsofhope. But anyone at any time can visit the page and place a pin, too.
Register now for most fall events! Attend PurpleLight to honor, inspire and remember all those affected by pancreatic cancer.