A Message from the President and CEO:
This month, our guest columnist is Laurie MacCaskill. Laurie is the Chair of our National Board of Directors and an eight-year pancreatic cancer survivor. Diagnosed in 2006, Laurie has since given the Pancreatic Cancer Action Network her unwavering support — representing the pancreatic cancer community as an advocate on Capitol Hill, speaking to audiences nationwide, taking part in media interviews and actively participating in the activities hosted by the organization's volunteer network. In addition, Laurie and her husband, Paul, have funded two Career Development Awards through the organization, inspiring junior scientists to make pancreatic cancer research their focus. Laurie is also passionate about preventive health, wellness and nutrition, and she is one of the founding board members of the Aspen Center for Integral Health.
We are inspired by her leadership.
With warm regards,
Julie Fleshman
Julie Fleshman, JD, MBA
President and CEO
Pancreatic Cancer Action Network
---
Dear Pancreatic Cancer Action Network Friends,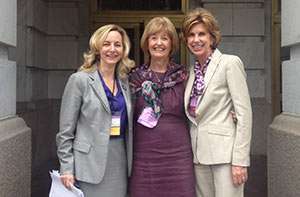 Laurie MacCaskill (right), at Advocacy Day in 2013, with Julie Fleshman (left) and Diane Borrison (center), Advocacy Coordinator for the Silicon Valley Affiliate
It's hard to overstate the significance of grassroots advocacy in the fight against pancreatic cancer.
For five years, I marched on Capitol Hill with many of you. And the outcome was that we saw the Recalcitrant Cancer Research Act signed into law on January 2, 2013.
Just last month, the National Cancer Institute (NCI) took an important first step toward implementing that bill. On March 3, the NCI released the "Scientific Framework for Pancreatic Ductal Adenocarcinoma," which outlines four key recommendations for making progress in the detection and treatment of pancreatic cancer.
The report holds great promise, but only if the NCI has the resources it needs to act on those recommendations. Unfortunately, the NCI's budget has been cut over the last four years, and the number of new research grants funded by the NCI has decreased. We cannot afford to lose the opportunity that exists right now for pancreatic cancer research. We have worked too hard to get where we are today to watch pancreatic cancer researchers scale back the scope of their work or to see young investigators leave the field because of a lack of funding. As a pancreatic cancer survivor, I find this possibility unacceptable.
That is why I urge you to join me on June 16 and 17 at the Eighth Annual Pancreatic Cancer Advocacy Day in Washington, D.C. This is our best opportunity of the entire year to make a difference in this fight. Hundreds of survivors, caregivers, family members and researchers from all 50 states will head to Capitol Hill to meet with their members of Congress. And when we tell our stories, Congress listens.
In 2010 and 2011, when we asked Congress to co-sponsor the Pancreatic Cancer Research & Education Act (later renamed the Recalcitrant Cancer Research Act), they listened: More members of Congress co-sponsored our bill (354) than they did almost any other health-related bill in Congress. In 2012, when we asked Congress to pass the bill, they listened again and pushed our bill through in a year in which fewer than 2 percent of all bills were passed. In 2013, we asked Congress to deliver speeches about NCI funding and pancreatic cancer, and once again, they listened, with more than 40 members taking to the floor of the House or the Senate to demonstrate their support in the weeks following the event.
I believe that our voices and our messages are compelling, and if we are unified, Congress will listen to our call once again. I can't tell you how powerful it is to tell a member of Congress your personal story. Certainly, the facts, figures and statistics are important, but for Congress to hear firsthand how you have been affected by this devastating disease has tremendous impact.
So—I strongly encourage you to register for Advocacy Day today and join me in Washington, D.C., this June. Together, we will let Congress know that we cannot afford any further cuts to cancer research funding and that fighting pancreatic cancer must remain a top priority for our nation.
Sincerely,
Laurie MacCaskill
Laurie MacCaskill
Chair, National Board of Directors, Pancreatic Cancer Action Network
Eight-year pancreatic cancer survivor, advocate, volunteer and donor