Dear Pancreatic Cancer Action Network supporters,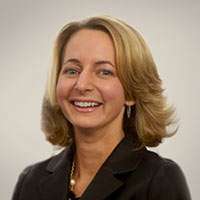 Julie Fleshman, President and CEO
This month, I think about the Pancreatic Cancer Action Network when the organization was young. Most of our November efforts focused on securing proclamations from as many states as possible to acknowledge November as Pancreatic Cancer Awareness Month. I'm amazed at how far we've come since then.
Fast forward 13 years and today's efforts now involve a nationwide network of passionate volunteers, survivors, advocates, researchers, healthcare professionals and others who make a huge impact during awareness month and throughout the year to change the course of history for pancreatic cancer. We have a strong movement that is fueling tremendous momentum and growth within the pancreatic cancer community as well as among the general public.
This momentum is maintained through our relentless commitment to the cause, day in and day out. And although we realize the enormous positive impact of November being designated as Pancreatic Cancer Awareness Month, all of us working diligently to make a difference each day in the fight against pancreatic cancer would agree that EVERY month should be awareness month.
Let's use this month to make pancreatic cancer part of the ongoing national discussion, not just in November, but all year round. Make today the day you join us for the first time, or continue supporting us. We have a lot of awareness-raising activities you can choose from:
Our November social media campaign provides a variety of actions that you can take throughout the month, including sharing messages through social media about individuals and corporations who are making a difference and contacting your member of Congress to let them know the fight against pancreatic cancer is urgent and important to you. I encourage you to visit our website to "Like the Fight" and choose how you can share your passion for change with others.
On November 22, we are turning the country purple with "Purple With a Purpose." You can show your support during "Purple with a Purpose" by wearing purple attire or a purple awareness ribbon or wristband. Really, just about anything purple is appropriate! We'd love for you to share your purple pictures with everyone on our Facebook page.
The Pancreatic Cancer Action Network hosts many PurpleStride events during the month of November and throughout the year in cities across the country. Find one near you at www.purplestride.org.
Thank you for your support in the fight against pancreatic cancer, this month and every month!
With warm regards,
Julie Fleshman, JD, MBA
President and CEO
Pancreatic Cancer Action Network