A Message from the President and CEO:
Our guest columnist this month is Anirban Maitra, MBBS, Chair of the Pancreatic Cancer Action Network's Scientific Advisory Board. Dr. Maitra is a Professor of Pathology and Oncology at the Sol Goldman Pancreatic Cancer Research Center at Johns Hopkins School of Medicine. Dr. Maitra received a Career Development Award from the Pancreatic Cancer Action Network in 2004 and has since secured substantial follow-up funding and published in numerous prominent scientific journals regarding pancreatic cancer.


Julie Fleshman, JD, MBA
President and CEO
Pancreatic Cancer Action Network
---
Dear Pancreatic Cancer Action Network Friends: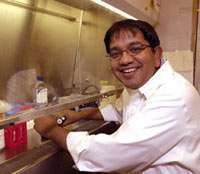 Anirban Maitra, MBBS
At the start of my career in 2004, I had to make the tough decision of whether I wanted to devote all of my efforts to clinical pathology or pursue laboratory research as well. Receiving a Career Development Award from the Pancreatic Cancer Action Network that year helped to solidify my decision to divide my focus between the clinic and the lab. Nine years later, I am honored and humbled to serve as the chair of the Pancreatic Cancer Action Network's Scientific Advisory Board among some of my personal heroes in the field of pancreatic cancer research.
Nine years ago, I could not have envisioned the growth of the organization or the tremendous increase in the number of pancreatic cancer researchers studying the disease. The Pancreatic Cancer Action Network research grants program awarded more than $5 million this year. Compared to the $135,000 in grant funding that was awarded when I received my grant in 2004, the growth is truly stellar. Each grant mechanism in 2013 was highly competitive, with the applications leading to considerable discussion among the peer-review committees assembled by the American Association for Cancer Research.
Excitingly, two grants of $1 million each were given to two teams of researchers whose laboratory work is poised to make a significant clinical impact on our goal to double the survival rate for pancreatic cancer by 2020. One of the Research Acceleration Network (RAN) grants will fund a study focused on harnessing the power of immunotherapy to fight pancreatic cancer, while the other delves into the early detection of pancreatic cancer in individuals at risk for developing the disease. The ability to award two inaugural RAN grants was made possible by the generosity and trust bestowed upon our organization by two donors: Tempur-Pedic in memory of Tim Miller and a gift made in memory of Skip Viragh.
The remaining $3 million awarded this year will fund an exciting mix of studies of promising early-career investigators and truly innovative projects. Three grant mechanisms are designed to support early-career scientists: Fellowship, Pathway to Leadership, and Career Development Awards. Postdoctoral fellows and newly independent investigators receive this funding support at critical junctures in their careers: when they are, like I was nine years ago, deciding upon a research focus and generating preliminary data for their investigations.
Finally, we awarded four Innovative Grants this year. Recipients are all established scientists in the field of pancreatic cancer or other cancer biology. This grant mechanism rewards out-of-the-box thinking and experimental approaches. All of the awardees this year represent an impressive list of researchers whose extensive, multidisciplinary backgrounds will help us make progress in the fight against pancreatic cancer.
I hope you will join me in congratulating all of our 2013 grantees and wish them well as we work to create a brighter future for everyone affected by this devastating disease.
Sincerely,


Anirban Maitra, MBBS
Professor of Pathology and Oncology at the Sol Goldman Pancreatic Cancer Research Center
at Johns Hopkins School of Medicine
Scientific Advisory Board Chair, Pancreatic Cancer Action Network