A Message from the President and CEO:
The guest columnist this month is Michael (Tony) Hollingsworth, PhD, a professor in the departments of biochemistry & molecular biology and pathology & microbiology at the Eppley Institute for Research in Cancer and Allied Diseases at the University of Nebraska Medical Center. Dr. Hollingsworth is also a longstanding member of our Scientific Advisory Board and considered an expert in the field of pancreatic cancer biology. He has participated in several Advocacy Days in the past and will attend this year's event as well.
With warm regards,


Julie Fleshman, JD, MBA
President and CEO
Pancreatic Cancer Action Network
---
Dear Pancreatic Cancer Action Network supporters and advocates,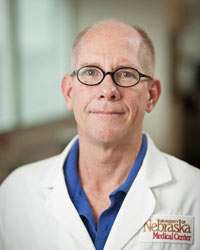 Michael Hollingsworth, PhD
A decade ago, all the researchers focused on pancreatic cancer across the entire country could fit around one table. Most of us were drawn to the field because it was a difficult problem to address and a monumental intellectual challenge. We wanted to conduct research that could positively impact diagnosis and clinical care for this devastating disease. We knew that there were too few of us and that progress would require more people, more resources, and much more research.
Today, there are ten times more scientists dedicated to this field and we have the basis of knowledge necessary to develop new diagnostic tools and novel treatment agents to fight pancreatic cancer. We have identified many of the unique problems that make pancreatic cancer difficult to diagnose and lethal. We are poised to finally find some answers and test new solutions.
However, much of this momentum could be jeopardized by the recent cuts to federal funding for medical research. The largest source of cancer research funding in the U.S. is the National Cancer Institute (NCI). Private funders like the Pancreatic Cancer Action Network fulfill a critical role in attracting young scientists to the field and supporting innovative projects, but the NCI is the major source of research funding. It is critical that the NCI increase its support to provide substantial and sustained funding, otherwise, the majority of pancreatic cancer studies will not be undertaken and we will lose the efforts of many of the researchers that have been recently recruited to this field.
It is also important to realize that the current problem is much bigger than our efforts in pancreatic cancer. It is a very difficult time to ask for sustained or even increased funding for anything in Washington. However, our country still leads the world in discoveries in every area of medical research, largely because of funding from the National Institutes of Health (NIH).
This medical research effort provides the basis for virtually all knowledge and discovery of new drugs and diagnostic techniques by both academic scientists and industry. As such, medical research funded by the NIH underpins a large economic engine that produces good things that positively impact the lives of everyone in this country and in the world. We must now sustain and in the future increase funding for medical research, otherwise we will miss opportunities to make discoveries and progress now, and importantly, we will lose the opportunity to train a new generation of researchers to carry forward these efforts. The negative effects of decreased funding will be long lasting and difficult to overcome. An ounce of prevention is still worth a pound of cure.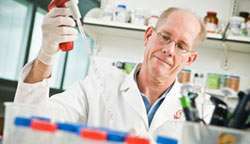 Pancreatic Cancer Action Network advocates scored an enormous victory earlier this year when the Recalcitrant Cancer Research Act was signed into law. I take great pride in knowing that my participation in past Advocacy Days played a role in convincing Congress to pass this bill. Because of this historic legislation, the NCI is now in the process of creating a scientific framework to determine how to tackle pancreatic cancer.
As we gear up for Advocacy Day and the National Call-In later this month, it is more important than ever to have all of our voices heard on Capitol Hill. Researchers, health professionals, patients, family members and caregivers must all join together around the same message: Restore NCI Funding. In order to reach our goal of doubling the survival of pancreatic cancer by 2020, we need to deepen our understanding of the disease and sustain nascent efforts to develop new diagnostics and therapeutics for pancreatic cancer. We cannot achieve that goal without adequate research funding from the federal government.
On behalf of the pancreatic cancer scientific community, I ask you to join me in continuing the fight against this disease by participating in the National Call-In on June 18.
Sincerely,



Michael Hollingsworth, PhD
Professor, Eppley Institute for Research in Cancer and Allied Diseases at the
University of Nebraska Medical Center
Pancreatic Cancer Action Network Scientific Advisory Board member