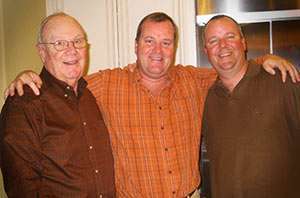 Todd Miller (center), with his father, Jock, and his brother, Tim
The golf course has long served as a setting for camaraderie, business discussions and brainstorming the next "big idea" for companies across the U.S. In 18 holes, people focus on a sport they love, and sometimes, an even bigger purpose is discussed and plans begin to take shape. It's through this process that Tempur-Pedic's alliance to support the Pancreatic Cancer Action Network blossomed.
In late 2008, Todd Miller, vice president of National Accounts at Tempur-Pedic, represented the company at the annual Seena Magowitz Golf Tournament as a sponsor to raise money for pancreatic cancer research. With each step onto a green, Todd awakened to the various intersections regarding pancreatic cancer appearing in his life.
At the time, Todd was reading "The Last Lecture" by Randy Pausch, PhD, the beloved Carnegie Mellon professor who passed from pancreatic cancer in 2008. Todd became captivated by Dr. Pausch's astonishing outlook and the courage he displayed in facing his diagnosis. Todd learned even more about the disease that eventually took Dr. Pausch's life and found himself leaving the tournament with a persistent thought: What could Tempur-Pedic do to support the fight against pancreatic cancer?
Going back to Tempur-Pedic and sharing his inspiration, Todd spearheaded a donation program that through the past five years has flourished into a highly successful effort within the company to support the Pancreatic Cancer Action Network. The relationship has grown over the years due to similar traits that the two organizations share: passion, impact, innovation, leadership and commitment.
"Both Tempur-Pedic and Pancreatic Cancer Action Network have grown to become leaders in the bedding industry and the nonprofit world by fostering cultures of innovation and entrepreneurship. We are inspired by the organization's goal of doubling the pancreatic cancer survival rate by 2020 and are proud to play a role in realizing that bold vision," said Tempur-Pedic President Rick Anderson.
Todd's vision kick-started efforts that have led to Tempur-Pedic donations of more than $1.1 million to Pancreatic Cancer Action Network. Individual projects have ranged from donating a portion of sales from My Tempur-Pedic Teddy Bears® to conducting in-store consumer "rest tests" to raise funds for research grants. Over the years, Tempur-Pedic has persistently worked to push boundaries, discovering new ways to lead the fight through activation. Successfully, Tempur-Pedic's efforts have delivered 1,500 new constituents and 200 million brand impressions for the Pancreatic Cancer Action Network.
Professional becomes personal
In late 2011, Todd experienced an even more personal tie to this cause – one in which he continues to invest his time, passion and leadership. Todd's brother, Tim Miller, a father of 3, was diagnosed with pancreatic cancer. Although he bravely fought the disease, as is the all-too common story, he lost his life to it after just 14 short months at the age of 47. His brother's death only underscored Todd's conviction to make a difference in the fight against pancreatic cancer.
Continuing to pave the way
Continuing its long-standing history of supporting pancreatic cancer research and awareness, Tempur-Pedic recently signed on to fund one of two inaugural Research Accelerations Network (RAN) grants: the 2013 Tempur-Pedic – Pancreatic Cancer Action Network – AACR Inaugural Research Acceleration Network Grant in Memory of Tim Miller. This prestigious, three-year grant awards $1 million to a high priority, innovative research project already under way, and is a key mechanism to achieving the Pancreatic Cancer Action Network's Vision of Progress. Teams at the University of Pennsylvania and New York University are working to further the goal to double the survival rate of pancreatic cancer by 2020 with funding from the grant. This pledge brings Tempur-Pedic's total financial impact to $2.1 million, making the company the Pancreatic Cancer Action Network's largest corporate donor.
"I am so humbled by the outpouring of support from so many people in the company," said Miller. "Each individual's actions matter so much and together, we have the power to change the future. I want that future not to include pancreatic cancer and this grant will help very smart people search for ways to double the survival rate. Tim and his family would have treasured any additional time to spend with each other."
"This cruel irony that an employee who had the vision for our relationship with the Pancreatic Cancer Action Network should be so personally impacted by the disease only reinforces our resolve to continue the fight," Anderson added. "Tempur-Pedic is driven to change the way the world sleeps, but we also won't rest until the world is rid of pancreatic cancer."