TRIBUTE OF HOPE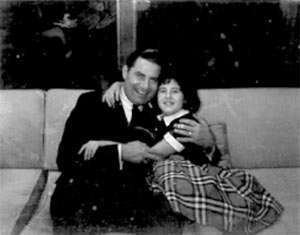 Sam Stroum with daughter, Cynthia, in 1958
Sam Stroum was the high-risk, high-reward type. Charismatic, lots of energy, full of life.
Like so many others, his life was changed the day his doctor handed down a pancreatic cancer diagnosis. So was his daughter's.
It's been 13 years, and she still chokes up remembering.
"I saw that strong life force in him get sucked right out," Cynthia Stroum recalls. "I had never seen my dad so lost and helpless. That really pushed me to fight on his behalf."
Within a week-and-a-half of his diagnosis, she was on the battlefield.
She found herself in Washington, D.C., with a then brand-new Pancreatic Cancer Action Network team of only two others, talking to lawmakers about her dad and thousands of others facing the same grim diagnosis. This led to her becoming founding board chair for the Pancreatic Cancer Action Network in 2000, where she helped implement a plan to put the "little" organization on the national map.
By the time her father passed away less than a year after his diagnosis, Stroum was already deeply connected to the mission of the Pancreatic Cancer Action Network, and she was fiercely determined to honor his memory in a way that was personal to her – and to him.
"My dad loved research, and pancreatic cancer research was desperately needed at the time," she says.
Stroum funded the first Fellowship Award when the Pancreatic Cancer Action Network's scientific grants program was established in 2003, and she has funded a Fellowship Award each year since. The Samuel Stroum – Pancreatic Cancer Action Network – AACR Fellowship Award is a one-year grant of $45,000 that attracts postdoctoral and clinical research fellows. It is designed to jump-start careers in pancreatic cancer research.
Cosimo Commisso, PhD, a pancreatic cancer researcher, feels that his Fellowship Award funded by Stroum in 2010 has positioned him for future success. He shares, "This grant influenced my research and career because it afforded me the opportunity to test novel ideas that would otherwise have been financially impossible. I believe that the projects that were funded directly by Cynthia Stroum through the Pancreatic Cancer Action Network have elevated the impact of my work, which will hopefully help my career in the long-term."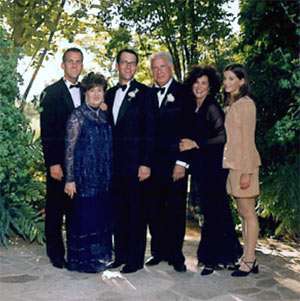 The Stroum Family
At the annual Celebration of Hope fundraiser gala this past June in her hometown of Seattle, Stroum donated $50,000 to the Pancreatic Cancer Action Network. During the event, she remembers seeing her name spotlighted on a big screen in the ballroom, along with the total sum she had donated over the years: $500,000. It made an impact on her…and others.
"To make a donation at our community event, surrounded by others there for a common cause, and then to see others giving out of their hearts was deeply moving," she says.
Stroum gives the gift of time to the cause, as well.
She is involved locally as a supporter and advocate for the Pancreatic Cancer Action Network's Puget Sound volunteer affiliate.
She also frequently receives calls from people around the country who are facing what could be the biggest fight of their lifetime.
"It might be someone's cousin, boss, or friend-of-a-friend's wife who was just diagnosed…I listen, I tell them I know what they're going through, and I tell them to call the Pancreatic Cancer Action Network for more information."
But perhaps most meaningful to Stroum as the result of her involvement is the intimate relationship she sometimes forges with patients. She has even accompanied local people to chemotherapy appointments.
She never misses an opportunity to relay a hopeful message.
"You've got to have hope. Not having it is disastrous," she says. "Thanks to the number of researchers studying this disease, we can confidently say that there is hope."
Sam Stroum loved risk and he loved reward. Donors like his daughter are helping to lay the foundation for early career scientists to take risks in the laboratory, and in seeking a cure, to create significant future rewards for pancreatic cancer patients.