As the heart and soul of ALEX AND ANI, CEO, Founder and Creative Director, Carolyn Rafaelian created CHARITY BY DESIGN, which serves as a unique division focused solely on giving and making the dreams of charitable organizations come true. CHARITY BY DESIGN empowers nonprofit organizations both on a national and local scale to reach their goals by sharing their mission through the power of positive energy and creative design. Rafaelian creates customized symbolic charms that capture the essence of a charity, making it more accessible to the public while raising awareness and funds. A portion of proceeds are donated directly to nonprofit organizations that strive to enhance the quality of lives on Earth. By allowing consumers to enter the charitable world through their purchases, CHARITY BY DESIGN believes a new generation of philanthropists will emerge.
Based in Cranston, Rhode Island, ALEX AND ANI was ranked on Inc. Magazine's list of the fastest-growing U.S. companies in 2013 and 2012. Rafaelian was named New England Entrepreneur of the Year in 2012 by Ernst & Young and the Small Business Administration's Rhode Island Small Business Person of the Year. ALEX AND ANI is pioneering its own definition of corporate consciousness with sustainable initiatives and the creation of high quality, thoughtfully manufactured pieces. The company is committed to building a culture that focuses entirely on mindful actions. ALEX AND ANI products are proudly handcrafted in America, and their stores are purposefully located on main streets to encourage growth in local economies.
ALEX AND ANI began its national support of the Pancreatic Cancer Action Network in October 2012 through the creation of the CHARITY BY DESIGN 'Today is an Opportunity' bangle. This design represents Courage, Appreciation, and Influence and was inspired by survivors of pancreatic cancer and our organization's fiercely passionate constituents. This bangle is available in ALEX AND ANI retail locations nationwide, retail partners and online at www.alexandani.com.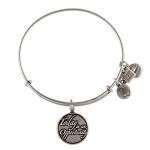 ALEX AND ANI | CHARITY BY DESIGN
"Today is an Opportunity" Charm Bangle
ALEX AND ANI will donate 20 percent of the purchase price* from the "Today is an Opportunity" bangle to the Pancreatic Cancer Action Network. The bangle is available at ALEX AND ANI retail locations nationwide and online at
www.alexandani.com
.
*Purchase price includes sales to ALEX AND ANI retail and web customers and wholesale accounts.