PurpleLight National Vigil for Hope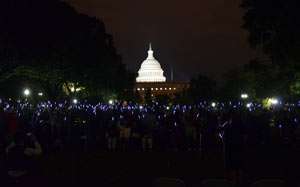 PurpleLight Washington, D.C.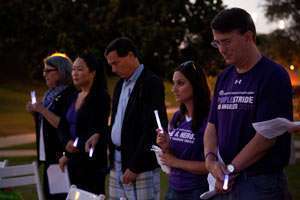 PurpleLight Manhattan Beach
Every PurpleLight tells a story, and this fall, our supporters had the chance to be heard! On September 30, more than 50 communities across the country came together for the annual PurpleLight National Vigil for Hope. The event venues varied from state capitol buildings, to beautiful parks, to prominent cancer facilities. It was a wonderful gathering for family and friends of those touched by pancreatic cancer to come together to gain both comfort and encouragement. The ceremonies provided an opportunity to honor loved ones fighting pancreatic cancer and those who have lost the fight.
Many PurpleLight locations featured guest speakers, such as local volunteers, caregivers, survivors, and pancreatic cancer researchers. During the remembrance ceremony, families and friends stood and illuminated a purple glow stick when the name of their loved one was read. As the purple glow filled the sky, participants were reminded of the reason we are all fighting to end this disease. PurpleLight united thousands of individuals, from Los Angeles to Miami, from San Francisco to Boston, determined to raise awareness, create hope, and turn the nation purple.
There are still several PurpleLight events scheduled for October and November. Learn more at www.purplelight.org.