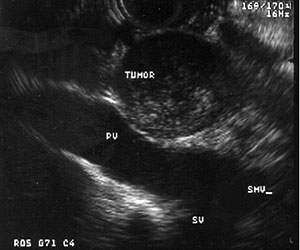 On This Page:
What Is an Endoscopic Ultrasound (EUS)?
Endoscopic ultrasound (EUS) is a procedure that uses sound waves to take pictures of the pancreas, bile duct and digestive tract. An endoscope is a thin, lighted tube. It enters the patient's mouth and is guided down through the stomach and into the first part of the small intestine (duodenum).
EUS is an outpatient procedure usually done in a hospital or same-day surgery center. The procedure usually lasts 15 to 45 minutes. Most patients consider it only mildly uncomfortable.
Why Use EUS?
For pancreatic cancer, a doctor can use an EUS to:
See a pancreatic tumor's location and size
Check whether the cancer has spread to other nearby areas of the body
Get a biopsy, or tumor sample for examination
Studies using EUS to screen people at higher risk for developing pancreatic cancer are also underway. Contact PanCAN Patient Services to learn more about pancreatic cancer risk and screening studies for people at high risk.
EUS can also be used to treat pancreatic cancer side effects. For example, a pancreatic tumor may cause pain if it presses against the celiac plexus, a bundle of nerves connecting the pancreas and other organs to the brain and spinal cord. To treat this pain, some patients get a celiac plexus block.
The celiac plexus block can happen during an EUS. If patients already have an EUS procedure scheduled and are experiencing uncontrolled pain, they should discuss a celiac plexus block with the doctor before the procedure.
How Does EUS Compare with Other Imaging Tests?
EUS is one of the most common imaging procedures used to diagnose pancreatic cancer. It is also often the best way to get tumor samples to make a definitive pancreatic cancer diagnosis. EUS may be able to find small pancreatic masses that were not found by computed tomography (CT) or magnetic resonance imaging (MRI) scans.
An EUS procedure is like an endoscopic retrograde cholangiopancreatography (ERCP), but the images are different. EUS is generally a safer test than ERCP.
For more information about pancreatic cancer diagnosis and these tests, contact PanCAN Patient Services.
How Should Patients Prepare for an EUS?
The healthcare team gives patients instructions before an EUS procedure.
Patients are not allowed to eat or drink anything six hours before the examination. Some may receive medicines before the procedure to decrease their chance of infection. The doctor tells the patient whether to continue taking these or other medicines before the EUS procedure.
Before the EUS, patients receive sedative medicine to help them relax and a drug to block pain. Patients may feel drowsy during the procedure but stay awake. They should plan to have someone drive them home after the procedure.
What Happens After an EUS?
After the EUS procedure, the patient remains in the recovery room until the sedative medicine has worn off. The patient should not drive a vehicle after the procedure.
Patients may feel full or the need to pass gas after the procedure. Also, the patient may have changes in bowel habits, such as soft stool. The healthcare team provides instructions on eating and drinking after an EUS.
What Are Possible Side Effects?
EUS complications are very rare. These may include:
A pancreatic cyst infection
Pancreatitis (pancreatic swelling)
Gastrointestinal bleeding
Tearing
Reactions to anesthesia medicines
We're Here to Help
For more information about pancreatic cancer diagnosis, contact PanCAN Patient Services.
Other Imaging Tests
Endoscopic Retrograde Cholangiopancreatography (ERCP)
Computed Tomography or Computerized Axial Tomography (CT or CAT)
Magnetic Resonance Imaging (MRI)
Positron Emission Tomography Computed Tomography (PET-CT)
---
Information reviewed by PanCAN's Scientific and Medical Advisory Board, who are experts in the field from such institutions as University of Pennsylvania, Memorial Sloan-Kettering Cancer Center, Virginia Mason Medical Center and more.
Information provided by the Pancreatic Cancer Action Network, Inc. ("PanCAN") is not a substitute for medical advice, diagnosis, treatment or other health care services. PanCAN may provide information to you about physicians, products, services, clinical trials or treatments related to pancreatic cancer, but PanCAN does not recommend nor endorse any particular health care resource. In addition, please note any personal information you provide to PanCAN's staff during telephone and/or email communications may be stored and used to help PanCAN achieve its mission of assisting patients with, and finding cures and treatments for, pancreatic cancer. Stored constituent information may be used to inform PanCAN programs and activities. Information also may be provided in aggregate or limited formats to third parties to guide future pancreatic cancer research and education efforts. PanCAN will not provide personal directly identifying information (such as your name or contact information) to such third parties without your prior written consent unless required or permitted by law to do so. For more information on how we may use your information, you can find our privacy policy on our website at https://www.pancan.org/privacy/.