PanCAN is dedicated to fighting the world's toughest cancer, and progress would not be made without the amazing efforts of the healthcare professional community.
PanCAN's Patient Champions Program showcases professionals in the healthcare field that collaborate with our Patient Services team.
Launched in 2019, the recognition is awarded on an annual basis.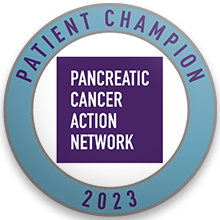 Participating Institutions
Become a Patient Champion
Individuals and institutions can be recognized as Patient Champions by participating in the following ways:

Refer patients to PanCAN Patient Services, a 1:1 support service for patients and caregivers

Contact our PanCAN Patient Services

Order free educational materials for patients and their families
Participate by Dec. 31 of each year to be a Patient Champion honoree the following calendar year.
To learn more about the Patient Champion program or services available to you and your patients, contact PanCAN Patient Services.