Creative Fundraising Ideas, Solid Determination Lead to Impressive Results
A Reason to Run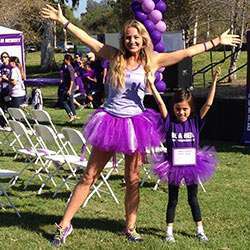 Little Avery Runner and the Marathon Goddess (Avery Kertes and Julie Weiss) spread purple spirit with matching outfits – and attitudes – at a recent PurpleStride walk.
Avery Kertes of Woodland Hills, Calif., better known as "Little Avery Runner," has been lacing up her running shoes with her mom, Julie Kertes, for roughly half her life. And for the past nine months, their weekend runs to the farmer's market or Starbucks have not been to beat others to the fresh fruit or coffee, but instead to make sure Avery is well-prepped for upcoming real-life races.
Avery has pounded the pavement from Los Angeles to Detroit and in lots of places in between since last June in her quest to raise money and awareness for the Pancreatic Cancer Action Network.
Her goal is to finish 12 races (one 5K each month) in one year, or to keep running until she hits her goal of raising $10,000 along the way. So far she has raised more than $4,000 and crossed nine purple-bannered finishes lined with high-fiving purple-clad fans. That would be an impressive feat for anyone, but Avery is only 8 years old.
The idea to raise money for the Pancreatic Cancer Action Network by running 5K races was hatched last May at PurpleStride Los Angeles, one of the organization's signature 5K run/walks. Avery couldn't help but notice a woman making quite a fashion statement by pairing a purple tutu with her purple running shoes. It was "Marathon Goddess" Julie Weiss, who ran a marathon a week for a year and raised more than $225,000 for the Pancreatic Cancer Action Network. When the Marathon Goddess addressed the crowd with words of inspiration that day, Avery was paying close attention.
"The Marathon Goddess inspired me when I met her at PurpleStride Los Angeles. Plus, I wanted to do something for my aunty Carol, a pancreatic cancer survivor, so my mom and I came up with this idea," Avery explains.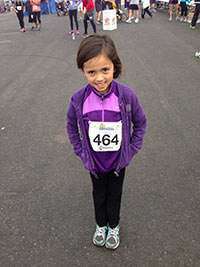 Avery Kertes finishes up another 5K on her way to completing twelve in a year to raise money for the Pancreatic Cancer Action Network.
Julie Kertes says her daughter Avery has always been encouraged to give back to the community. "I think it's important for children to understand that they can make a difference," she says. "Whether it's raising $20 from a lemonade sale or collecting 20 pounds of food for a food bank, every little bit helps. Compassionate children become compassionate adults."
Mother and daughter have participated in walks for charities together for years, and when Avery heard about Julie Weiss' commitment, she was excited about creating her own version of the Marathon Goddess' goal.
"It makes me feel proud to know I'm helping others," Avery says of her commitment. "Kids should help other people besides themselves because it feels really good."
Avery's Facebook page https://www.facebook.com/littleaveryrunner is filled with words of encouragement from her fans and cheerleaders across the country. Each time someone contributes to Avery's fundraising goal, she draws a picture for them and posts it on the page.
Mom Julie says, "We've been blown away by the kind words and touching comments from people who've been affected by this disease. As much as people are grateful for what Avery is doing, we are equally (if not more) grateful for all the support."
She adds, "There is tremendous heartache and loss associated with this disease, but Avery focuses on the positive. We have met so many survivors who inspire us every day."
Mission-Focused Camp Curious – by Kids, for Kids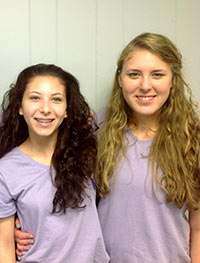 Shoshanna Lustig (right) and her sister Rebecca. Shoshanna founded Camp Curious, a day camp for children in which admission proceeds benefit the Pancreatic Cancer Action Network.
For the past eight years, Camp Curious—a day camp in Landenberg, Penn.—has hosted up to 35 children over the course of one week in the summer.
Parents benefit from a much-needed break.
Campers benefit from a half-day of playtime, craft time, good snacks and new friends.
Shoshanna Lustig, now a high school senior; her younger sister Rebecca; and a handful of their most responsible friends benefit from learning to entertain and corral the young campers.
And the Pancreatic Cancer Action Network benefits from proceeds from the camp.
Camp Curious was the brainchild of Shoshanna when she was 9 years old. She had lost her grandmother to pancreatic cancer and was looking to do something to raise awareness and funds. The first year of camp, Shoshanna and friends hosted eight neighborhood children in a friend's basement. Each year the enrollment increased, and last summer registration grew so much that Shoshanna had to turn people away.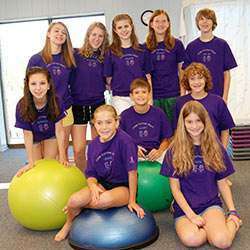 A few of the youth volunteers of Camp Curious prepare to lead children in fun summertime activities.
"We now host Camp Curious in our neighborhood clubhouse, and 35 is our capacity. Word has really gotten around the neighborhood over the years!" she says.
Parents pay $25 per child per half-day (many make additional donations), and thanks to donated snacks and supplies, 100 percent of the proceeds come back to the Pancreatic Cancer Action Network.
Shoshanna says that she and her sister have around 13 additional volunteers and five adult supervisors to help lead the camp. They try to incorporate health and wellness themes into learning as much as they can, keeping in mind that their audience tops out at 6 years old. Once they held a "career day" and asked a doctor (Shoshanna's mom) to come and speak to the group. They passed out purple ribbon pins as a special treat.
Shoshanna is college-bound this fall – she plans to major in chemistry and go on to become a doctor or a pancreatic cancer researcher – but she is hopeful her sister, Rebecca, will keep Camp Curious going at least for a bit longer.
"There is almost something selfish about giving back," she says. "Even if I'm only making a tiny difference, it's a pretty cool feeling."
A Life-Changing Event for High School Seniors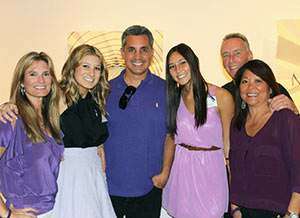 Karly Freeman (second from left) and Kailea Nuzzo (third from right) with their families at Cheers to a Cure, a fundraiser in honor of a friend batting pancreatic cancer. Proceeds benefited the Pancreatic Cancer Action Network.
When NBA referee Greg Willard was diagnosed with pancreatic cancer in 2012, it was a shock to the community. His many friends were quick to offer support. "Anything we can do," they had said.
Kailea Nuzzo, a senior in high school and Greg's neighbor at the time, thought the world of him. She was one of those people who wanted to help.
"Greg was the nicest man I have ever met in my life," she says.
Kailea was a member of a special four-year program known as CIBACS (Center for International Business and Communication Studies) at Edison High School in Huntington Beach, Calif. The program helps a group of select students develop high-level leadership and teambuilding skills. The program culminates in a final project that is judged and graded.
As Kailea considered project ideas, fellow CIBACS student and friend Karly Freeman had some ideas of her own. Karly's uncle had passed away from pancreatic cancer when she was in middle school, and the two soon decided it made sense to team up and host a fundraiser for the Pancreatic Cancer Action Network as their final project.
They put their heads together and settled on a wine pairing event, despite some concerns from teachers and advisers since the girls were underage. But with their parents' support and the backing of the city of Huntington Beach, the "Cheers to a Cure" event went off without a hitch for a sold-out crowd. More than 300 attended, including the some of the Willard family.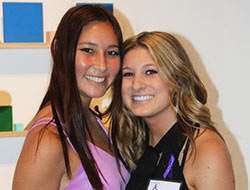 Kailea Nuzzo (left) and friend Karly Freeman were high school seniors when they planned "Cheers to a Cure" as a class project to honor a friend battling pancreatic cancer.
Says Karly, today a freshman at Orange Coast College in Costa Mesa, Calif., "I'll never forget Greg's mother coming up to us and saying how grateful she was for our work on the event – it moved us to tears. We couldn't form any words. And although Greg couldn't attend, he called to thank us afterwards. He passed away a few days later."
Although Kailea and Karly agree that the six-month event planning process was daunting, they say they wouldn't trade the experience for anything. Meeting so many who had been touched by pancreatic cancer—including a number of survivors—was simply unforgettable.
The event raised just shy of $27,000, and the money was donated to PurpleStride Orange County, a Pancreatic Cancer Action Network walk/run held each November in Irvine, Calif.
"Our eyes were opened to how many are affected by the disease, and through this experience we were able to see that we really could make a difference," Kailea, now a freshman at the University of California at Irvine, says. "I think sometimes young people think they're too young to do anything, but that's just not true."
"Every student should experience something like this," she adds. "We still talk about how it changed our lives."
Being Strong Is the Only Option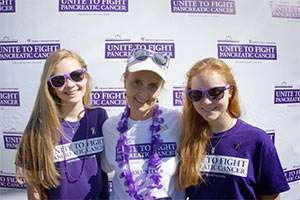 Rosemary and Grace Takacs with their mom, Alison, at the Unite to Fight walk in Boston last year.
For sisters Rosemary (age 15) and Grace (age 13) Takacs of Acton, Mass., the act of giving back is second-nature.
The years have ticked by since their dad was diagnosed with pancreatic cancer 10 days after his 47th birthday – Grace's 8th birthday – and then died just a few months later. Though he's missed countless recitals, school projects, family events – their entire growing up – he's still with them, they say, smiling down.
"He would be very proud of everything that we do for him," says Rosemary.
What they do for him would make any parent proud. The pair have sung the national anthem on stage to kick off PurpleStride Boston and Unite to Fight, local 5K run/walks that raise awareness and funds to fight pancreatic cancer.
On birthdays, the girls ask that friends not bring them gifts, but instead make donations to the Pancreatic Cancer Action Network.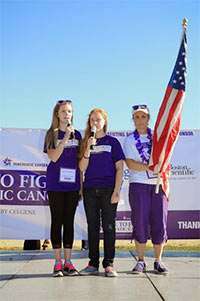 The Takacs sisters sing the national anthem at Unite to Fight in Boston to kick off the walk.
In seventh grade, Rosemary was involved in a middle school project that called upon the students to raise money for a charity. In seventh grade, she convinced fellow students to select the Pancreatic Cancer Action Network as their charity. The project gained a momentum of its own and continued to raise funds for the organization the following year, even though Rosemary had moved on to eighth grade.
Last summer the girls held an open mic night as a fundraiser, with Rosemary playing guitar and singing, and Grace playing her ukulele and guitar. Grace even serenaded her mother, Alison, with a Taylor Swift song about the love she had for her mom.
Alison said it was a complete surprise and "was quite special."
Volunteering is a family activity for the three. Alison is involved in the Pancreatic Cancer Action Network's Boston Affiliate, and the three attended Pancreatic Cancer Advocacy Day in Washington, D.C., advocating for passage of the Recalcitrant Cancer Research Act. As the bill was passed and signed into law early last year, the Takacs family gathered around the television to celebrate an occasion that meant much to them and many others impacted by the disease. Knowing that Rosemary and Grace had been a part of getting the bill passed – a historic event – was an incredible feeling, Alison shared.
Everyone has come a long way since the day the family learned Jim Takacs had pancreatic cancer, and the girls agree they have grown and learned a lot, although they'd give anything to have their dad back.
"A while ago I came across this quote," says Grace: "You never know how strong you are until being strong is the only option you have."
"That describes our life. We just had to move on and deal with what we had."