Pancreatic Cancer Research at the National Cancer Institute
One of PanCAN's key strategies to accelerate progress for pancreatic cancer patients is to increase the federal research funding available to researchers around the country. Since 1999, we and our grassroots advocates have championed the importance of increasing federal funding for pancreatic cancer research at the National Cancer Institute (NCI), the country's largest funder of cancer research.
Our strategy is to advocate for more funding for the NCI each year, working with the broader cancer advocacy community, and then to urge Congress and the NCI to prioritize pancreatic cancer research.
This strategy works: NCI funding for pancreatic cancer research has increased by over 970% since 1999 when our efforts started.
We also see a clear connection between increased federal research funding and better survival rates for patients.
"NCI-funded researchers are working to advance our understanding of how to prevent, detect, and treat pancreatic cancer."
- The National Cancer Institute, cancer.gov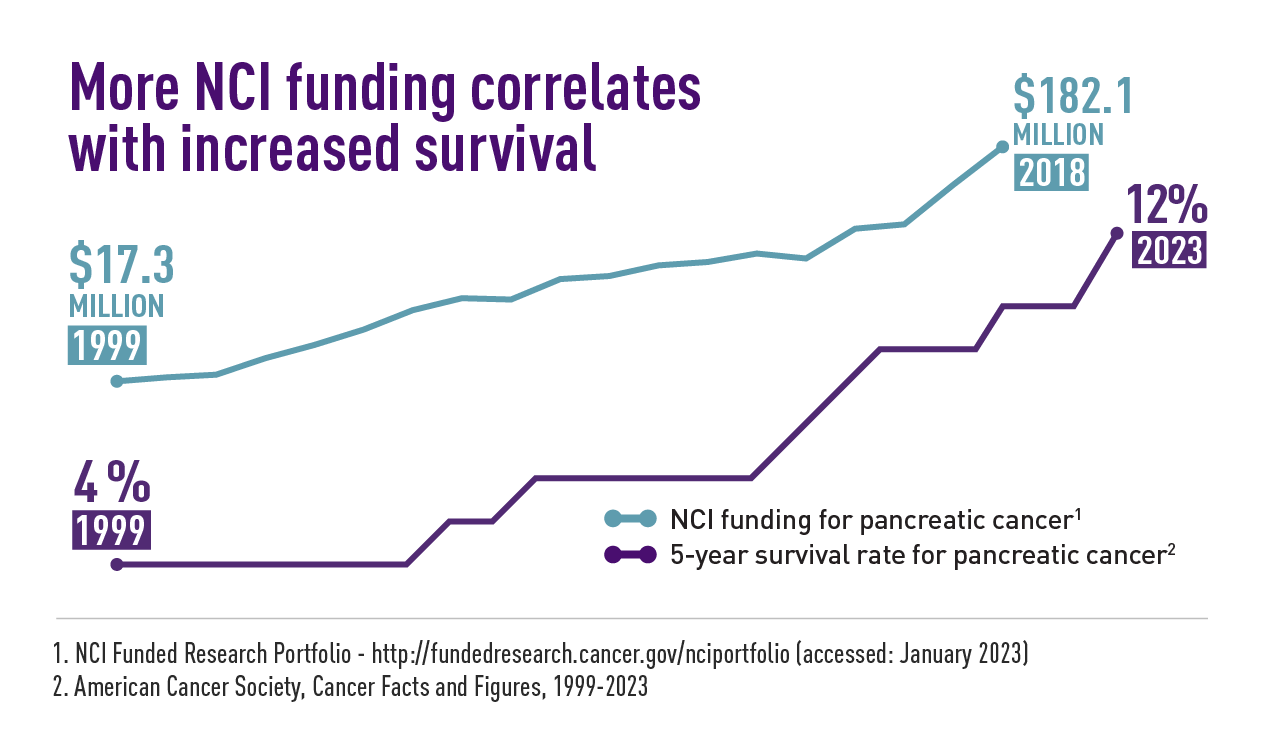 Take Action
Raise your voice! Join us in urging Congress to support increased funding for the NIH and the NCI!
History of Pancreatic Cancer Research Funding at the NCI
When PanCAN was founded in 1999, the NCI was only investing $17.3 million in pancreatic cancer research. We knew we needed to make pancreatic cancer a national priority and increase federal funding for the disease. For two decades, PanCAN advocates have been meeting with members of Congress to tell their stories about how pancreatic cancer has affected their lives. These stories remind Congress why pancreatic cancer research funding is important to the people they serve.
Each year, through its annual appropriations process, Congress decides the funding for all federal agencies, including those that conduct medical research. Congress does not specify funding amounts for individual cancers within the NCI. Instead, Congress sets an overall amount for the entire NIH agency and each Institute, including the NCI, and then it's left to the NCI to determine how to allocate those funds.
To make sure the NCI had a plan for pancreatic cancer, PanCAN also led an effort starting in 2008 to pass a bill called the Recalcitrant Cancer Research Act. It took five years to get the bill passed, but thanks to the tremendous efforts of our advocates, we were successful! The bill required the NCI to create a scientific framework, or a plan, for pancreatic cancer. PanCAN, along with many top experts in the field, helped create this plan.
PanCAN has since held the NCI accountable for delivering on the priorities that were identified in the plan. As the NCI has implemented the recommendations for pancreatic cancer research, we have seen new funding opportunities and partnerships as a result.
By advocating for increases in NCI funding, pancreatic cancer advocates ensure that there is more funding available for all cancers, including pancreatic cancer. This is critical work and we're so grateful to everyone who is taking action!
Advocacy Related News