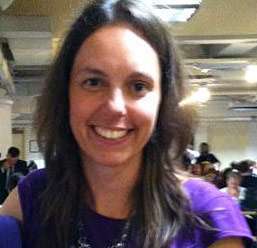 Aimee is also a member of our Volunteer Advisory Council, which means that she was also selected to provide volunteer input in various decisions made at the national office. Aimee is proactive and not afraid to reach out, be engaged with fellow volunteers and connect to people in her community.
After a year of volunteering she decided it was time to move into a leadership position.
"I felt the need to step up my efforts to create awareness and reach out to others who were affected by this disease," she said. "It became my passion to be a voice for those who couldn't step up and fight for themselves. I want to let others know that pancreatic cancer is not to be taken lightly or ignored."
Aimee said volunteering offers a unique opportunity to grow as a person as well as support others in their growth.
"Volunteering has made me a better person. I look at life in a different way now, a more positive way.  I can help people who feel hopeless and give them the inspiration they need to put up a fight. Providing support is a two-way street at this organization – you give support and receive support in return."