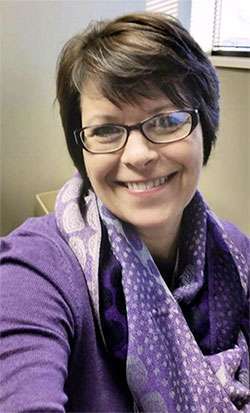 Lori wanted to make a difference so that people wouldn't feel so hopeless when they hear that they have pancreatic cancer. The look in her own mother's eyes when she was told there was nothing doctors could do was devastating. Her asking, "Why me? Why this cancer?" are the words that still keep Lori motivated to make a difference.
"I started volunteering because there is so much to be done, and someone needed to get things started. Why not me?
"Besides, volunteering is the right thing to do. Trust me, volunteering with the Pancreatic Cancer Action Network is like getting a second family. And it's such rewarding work. I often say that being a part of the Pancreatic Cancer Action Network as an affiliate volunteer is like being in the coolest club ever, although it's a club you never wanted to join if you're in it because pancreatic cancer has touched your life personally."
One of the best things about volunteering is connecting the dots for people, Lori said. Whether it's helping a patient find resources and information, or connecting other volunteers to a role in the affiliate that she thinks they'll enjoy…the Pancreatic Cancer Action Network works hard to empower volunteers to be the boots on the street. And, she added that volunteer leaders get great training – they are prepared for conversations with anyone, from healthcare professionals to corporate sponsors to patients and caregivers.
"While pancreatic cancer is a beast, we see hope in the work we do every day, and the energy that volunteerism brings to the fight is incredible. The people are what sets this organization apart from any other. I've never been involved in something where I have been engaged so intensely so quickly."