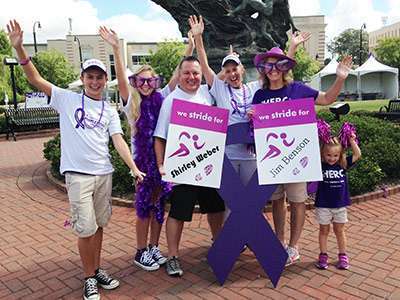 Mark's "let's make it happen" approach to life and his commitment to making a difference for those affected by pancreatic cancer makes him a stand-out volunteer. Mark is constantly thinking of creative ways to engage his local media and thinking outside the box to raise awareness. Pancreatic cancer hit his family twice – first in 2005, when he lost his father-in-law, and seven years later when he lost his mother. Just days after his mother's passing, he participated in his local PurpleStride in Charlotte, N.C.
"I was impressed with the passion and drive the Charlotte Affiliate exhibited at PurpleStride. From there I started to attend affiliate meetings and looked for ways to put my grief into action. I wanted to make a difference for others."
When asked about what his volunteer experience meant to him, Mark stressed the importance of being a voice for those with the disease.
"People diagnosed with pancreatic cancer need loud voices to advocate on their behalf. Given the prevailing trends with pancreatic cancer, we need the support of people who may not currently have a connection to join the fight and help us rewrite the future of this devastating disease."