An Important Part of our Mission: The PanCAN Patient Services
Providing patients, families and health professionals with free, personalized information and resources, as well as explanations of diagnosis and treatment options including clinical trials, through the PanCAN Patient Services, or PanCAN Patient Services, program has been an important part of the Pancreatic Cancer Action Network's mission since 2002. Therefore, we are pleased to report that more than 50,000 individuals have now utilized the PanCAN Patient Services program since its inception.
In a tribute to all of those who will face the disease this year, we are sharing five inspirational and touching stories about and from inspirational pancreatic cancer survivors. The stories were submitted to us during National Pancreatic Cancer Awareness month in November of 2010 as part of our "Be a Hero in the Fight Against Pancreatic Cancer" initiative.
These stories were selected from the nearly 400 Hero story submissions sent to us to date through www.knowitfightitendit.org. To read more Hero stories go to http://www.knowitfightitendit.org/other. As we receive additional stories, we will continue to share them with you, so check back often.
To read more about the PanCAN Patient Services program and its historic milestone, click here.
---
By Joe Candler
I was told on December 28, 2004 that I had pancreatic cancer. As 2005 arrived, I was sure that it would be the last new year I would see.
After various tests, it was revealed that my cancer was inoperable since the tumor had invaded my portal vein. Doctors determined that I would undergo 30 radiation treatments along with oral chemotherapy. After that time, I would be reevaluated. After the radiation treatment, it was discovered that my tumor had shrunk from the size of a grapefruit to the size of a quarter. I underwent a Whipple procedure and instead of spending two days in the ICU on a respirator, I was moved straight into a room. After recovering from surgery, I started 6 months of chemotherapy.
New Years 2006 came and went and I am still here. The hardest part for me was not having someone to talk to about what was happening and what might happen. This is something that I want to do.
I want to be available for people who have heard the terrible words, "You have pancreatic cancer." I was devastated when I heard that Patrick Swayze died and every time I hear of someone else dying from this disease, a little bit of me dies, too. Since my cancer, I have gone on and completed my Master's Degree.
---
By Jeanette White
My mother was diagnosed with Stage IV pancreatic cancer on her birthday this past January. She was so calm when she got her diagnosis, she was even telling the doctor in the ER it was going to be okay. That goes to show you what kind of mother I have, amazing.
My mother found out that she had pancreatic cancer by accident in the ER when she had pancreatitis. What was amazing to us is that several months prior she had a CAT scan for a kidney infection that showed the pancreas and at that time there was no tumor. So in that short amount of a time, she went from no tumor to stage IV pancreatic cancer.
My mother has an amazing team of doctors and has a great deal of faith. She will continue to fight this battle and with all her faith and strength. She will continue to surprise us all, especially the doctors. After eight months had passed, she was told she could have 3 to 6 months without treatment.
Thankfully, with the great team that has helped my mother and continued research, we are praying that we will have a cure very soon. My mother is my hero.
---
By Christine Mackey
My name is Christine Mackie and I am a survivor of pancreatic cancer.
I was diagnosed in 1986 and at first was being treated for a stomach ulcer. I lost quite a bit of weight, had some dizziness, my appetite was down and the pain was unbearable at times.
I was given 24 hours to get my kids looked after and get straight back to the hospital to be admitted for tests.
I was in the hospital for nine weeks and on life support system for a week. They performed the Whipple surgery where they removed the head of the pancreas, one quarter of my stomach and re-stitched the duodenum up to my stomach.
I almost gave up my fight, but my dad told me, "Don't you dare—you have 2 beautiful children to watch grow up."
I prayed, I read, and I kept a positive outlook and I am happy to say that I have reached the age of 63 years and have been cancer free since 1986. My first 5 years was very scary, because whenever I got the flu, or a cold, I was afraid that the cancer would find its way back into my body.
My life has changed so much and I am grateful for every morning to be able to get up and start a new day with sunshine in my heart.
I tell everybody, "Do not give up." Since those dark days in my life, I have learned that when you are at your lowest moment, you are gifted with grace and acceptance. You are given fresh grace for others also.
---
By Sandy Mueller
My son was diagnosed in July 2008 as he was just approaching his 21st birthday. He underwent the Whipple procedure. He is my hero.
The doctors went in with a positive attitude which in turn has given him a positive attitude. It's a year later and he's cancer free. At his young age, he wants to lead by example to make a difference for other people diagnosed, even if their outcomes may not be the same.
I love him so much as he is my hero. I hope we will have more years together. It is was a hard journey, but having him here every day we can make the fight worth it
---
By Stephanie Pieklik
Three years ago, at the age of 15, I lost my father Frank John Pieklik to pancreatic cancer. He is my true hero.
I have made it my priority in life to be his advocate and fight for what he did not have the chance to fight for. By being involved with the Pancreatic Cancer Action Network, I have met many wonderful people, two of which have become another source of inspiration for me- two more heroes in my life.
Ralph Cheney is soon to be a 6-year survivor of this pancreatic cancer. Despite his condition, his determined, positive attitude reminds me that there is hope. His wife Mariann, with the New York affiliate, has been a great role model to me as well. Mariann has shown me how to support others and make my voice heard.
Ralph and Mariann treat me like family, and in fact, we are. We are part of the Pancreatic Cancer Action Network family. I have not only been inspired by my father, but Ralph, Mariann, and those involved with the Pancreatic Cancer Action Network have all taught me that we can work together to "Know it, Fight it, End It."
---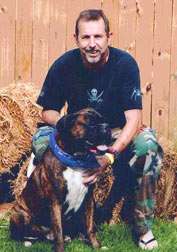 By Rick Asbridge
My best friend, Zeus, my dog, helped me to survive pancreatic cancer.
I have been free of cancer since Sept., 2007 when I underwent the Whipple procedure. The day I was diagnosed was the most terrifying day of my life. I served in the military for 21 years and was attached to a SPECWAR unit, but nothing I experienced in the military compared to that day. I was at my lowest time I've had in my life and would not of possibly got out of this horrible time without my best friend and my caregiver, Zeus.
Zeus is my 87-pound Boxer dog and is the closest friend and the best caregiver anyone could ever want. The day I was diagnosed with cancer, he knew something was wrong and would not leave my side. He would follow me everywhere I went and would lay with me with his head on my lap and would just look and watch me.
After surgery and I came home, again my best friend was there, right next to me and would not leave me for anyhing! He was there for me to talk to, no matter what time of day or night and didn't care when I cried on him when my mind wouldn't let me think about other times. He never judged me and he always seemed to understand what I was saying and what I was going through.
Without Zeus, I very seriously doubt that I would of recovered as fast as I did nor would of made it through those long nights sitting up alone when I couldn't get to sleep, with my mind on everything that was going on with my body and thinking about what others with this cancer had and are going through, crying like I've never cried before in my life.
He was there for me and is at this very moment he is laying beside me on the floor, like a great friend that he has always been. I know, some of you may think I'm nuts talking about my dog and being my caregiver, but I can tell you with all my heart, without God and Zeus, I do not know where my health would be at this moment. He has been such a Godsend and a treasure in my life! It'll be hard to repay him for everything that he's done for me, but I'll try!
My only wish and dream that I have is that the cure for this and all other cancers in the world be found and nobody else or their loved ones will have to go through such a horrible experience! I thank The Pancreatic Cancer Action Network for all that they do in trying to raise awareness and bring this horrible cancer to light for everyone can see how bad it actually is! I also want to thank them for giving us a chance to thank the hero's of our life and sharing the stories that we have about them.
Zeus, although a dog, is my hero and a friend that I owe my life to. He has given me hope, lifted me up when I was down and gave me a shoulder (or back) to cry on whenever I needed it and never judged me for a second! He's been there for me from the start and still is, right by my side and I Love him with all my heart!
I pray that a cure is found.