Join the Movement:
PurpleStride Runs and Family-Friendly Walks Are Scheduled this Spring—and throughout the year—in Cities Nationwide
For many participants,including pre-schooler Levi Mollica, the Pancreatic Cancer Action Network's PurpleStride awareness run/walk is a meaningful way to honor loved ones touched by pancreatic cancer.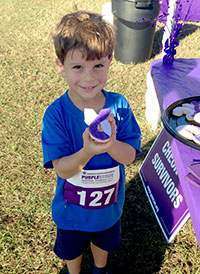 Levi Mollica, age 5, after running 3.1 miles in PurpleStride Central Florida with his family last year
Five-year-old Levi Mollica never got to meet his grandfather, Alan Ather, but he knows that the Orlando, Florida, firefighter loved going fishing on his off-duty days and that he had a big heart. When PurpleStride Central Florida rolled around late last year, Levi decided he'd honor Alan by doing something he loves—running—and he dedicated the 3.1 miles he ran to his grandpa.
It was the first PurpleStride that the Mollica family had attended.
Levi's mother, Sherrie Ather Mollica, wanted her family to participate in the Pancreatic Cancer Action Network's PurpleStride run/walk together as a way to remember her late father and to bring more attention to pancreatic cancer. Now she says she'll never forget how being surrounded by people clad in purple and hearing her fellow walkers and runners chant "Know It. Fight It. End It." while raising their ceremonial ribbons made her feel.
"I've participated in a lot of runs and walks over the years, but PurpleStride was different—I could feel that everyone's heart was in it 100 percent. It was very touching."
Levi enjoyed the kids' activities in the event's Purple Play Zone, but mostly he loved running with his family. His family members enjoyed the day so much that they're already looking forward to this year's PurpleStride.
And with 20-plus PurpleStride events hosted across the country in April, May and June—and many more PurpleStride events slated thoughout the year—there's a chance for everyone to come out and support the cause at some time this year. Planned and orchestrated by Pancreatic Cancer Action Network volunteers across the country, PurpleStride events are family-friendly and give thousands the opportunity to join together in solidarity against pancreatic cancer. Find your local PurpleStride here.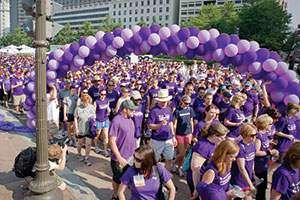 PurpleStride run/walks have something for everyone.
Sherrie Ather Mollica was amazed by the enthusiasm and professionalism of the volunteers at the event she attended—many of whom had worked long hours for months in advance to create a memorable PurpleStride experience for everyone who attended. 
Crossing the finish line at PurpleStride Central Florida was meaningful for the Mollica family in another way, too: It marked the 82nd mile that pint-sized Levi had completed in just eight weeks. For Levi, running is fun—it's good exercise that would certainly warm the big heart of his late grandfather, whom Sherrie described as "always going the distance."
"Levi wants to run in the Olympics when he grows up. And I think he'll make it!"
You don't have to be a distance runner to participate in your local PurpleStride. The events are enjoyable for all and provide an excellent opportunity to connect with others who have been affected by pancreatic cancer. For a complete list of upcoming PurpleStride events, visit www.purplestride.org. Be sure to continue to check back as more details and dates for additional PurpleStride events become available.