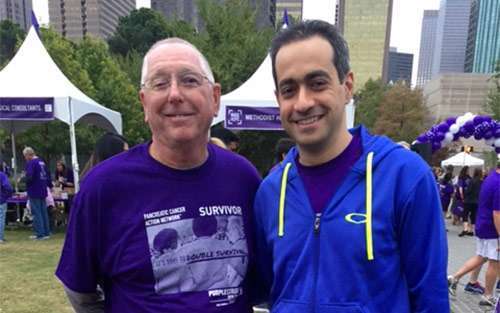 Hope is everything.
For Ken Abernathy, a positive attitude, even in the face of two cancer diagnoses – non-Hodgkin lymphoma in 1996 and stage IV pancreatic cancer in 2013 – has played a big role in his overall wellbeing.
And his remarkable outlook on life recently caught the eye of a reporter at Men's Health magazine.
A story about him was published online last week and also featured an interview with Abernathy's doctor, Muhammad (Shaalan) Beg, MD, medical oncologist and gastrointestinal cancer specialist at UT Southwestern Medical Center. Dr. Beg is also co-principal investigator on the 2015 Pancreatic Cancer Action Network Translational Research Grant alongside colleague David Boothman, PhD.
Men's Health learned of his story, Abernathy said, after he was featured in UT Southwestern's newsletter.
We spoke with Abernathy after the story in Men's Health was published.
He was grateful for the national exposure for the disease, saying, "I would love for more pancreatic cancer patients to see the article, because I want them to know there is hope for people with pancreatic cancer. Seeing the statistics is tough, and you need encouragement."
Abernathy also praised PanCAN Patient Services, which he used to gain information about treatment options, for the breadth and scope of its services.
"I'm glad people across the country have access to the fantastic services the Pancreatic Cancer Action Network offers patients and families," Abernathy said. "I'm fortunate to be able to go to UT Southwestern for my treatment – it's a leading research and treatment facility doing cutting-edge work. But not everyone has that option close by."
Seeing pancreatic cancer specialists, physicians who diagnose and treat a high volume of pancreatic cancer patients, improves outcomes. The Pancreatic Cancer Action Network strongly recommends you consult with pancreatic cancer specialists who have experience diagnosing and treating the disease.
And, as Abernathy confirms, it's also important to stay positive and keep the faith.
"Having hope is everything," he said.
Dr. Beg agreed that a positive attitude and hope are necessary, adding, "Ken's approach to his cancer and treatment has been an inspiration for me and others around him."
For more information about the information, resources and services the Pancreatic Cancer Action Network offers patients and families, contact a PanCAN Patient Services Case Manager today.