A new approach to supporting cancer research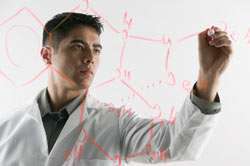 The Pancreatic Cancer Action Network is trying something out-of-the-ordinary in its efforts to double the pancreatic cancer survival rate by 2020 associated with a new grant mechanism: the Research Acceleration Network Grant, or RAN. Announced last summer, the RAN grant provides $1 million in funding over a one- to three-year period and represents our biggest research grant mechanism to date. Currently, we are in the final stages of a rigorous process to evaluate the applications submitted for the grant to determine the 2013 recipient.
The RAN requires that investigators from two institutions collaborate to pool their expertise, build upon ongoing work in their groups, and test their ideas in patients. What is unusual is that, in addition to providing research funds, the Pancreatic Cancer Action Network will also offer another valuable resource to help these investigators reach our 2020 goal: the services of a dedicated Scientific Project Manager to help with the logistical management of the research project.
Scientific Project Managers are common in the pharmaceutical and biotechnology sectors, but rare at academic centers where investigators are expected to scientifically and administratively manage their own research projects. Research grants do not usually allow support for project management services.
Unfortunately, collaborative projects in particular often face unanticipated difficulties that require special attention. The challenges are even more complex when the investigators are located at two or more different institutions. Frequently, no one person is dedicated to solving these problems to ensure the project runs smoothly. That's where the Scientific Project Manager fills a void.
The manager is responsible for calling meetings and setting agendas, assisting with the transfer of information and samples between multiple sites, identifying resources from external sources, helping with disseminating information, and serving as a vital link between all stakeholders involved in the project.
Lola Rahib, PhD, a new member of the Research and Scientific Affairs team at the Pancreatic Cancer Action Network, will serve as the Scientific Project Manager for the RAN grant projects. Dr. Rahib earned her doctorate at UCLA in Biomedical Engineering and has worked as a Project Manager for several biotechnology start-up companies in the Los Angeles area. She is highly organized, loves to manage data, and has broad knowledge and experience in both laboratory and clinical research settings as well as extensive knowledge of government regulations.
"I am very excited to be part of the Pancreatic Cancer Action Network during such a critical time for the developmental progression of this deadly cancer," Dr. Rahib said. "I look forward to working with the researchers and helping to facilitate some promising clinical results through the RAN grants. We are optimistic that the efforts of the RAN grants will lead to real progress fighting the disease and support our 2020 goal."
Dr. Rahib's skills and enthusiasm are a wonderful addition to the RAN projects, and will help us accelerate the progress we so desperately need as we search for new ways to detect or treat pancreatic cancer.