In 2018, the Pancreatic Cancer Action Network (PanCAN), in partnership with generous donors, awarded eight grants to 11 researchers for a projected investment of $4.2 million to support pancreatic cancer research.
PanCAN's 2018 grants portfolio is thoughtful and comprehensive, including innovative approaches to unlocking the biology of the disease and improving patient treatments and outcomes.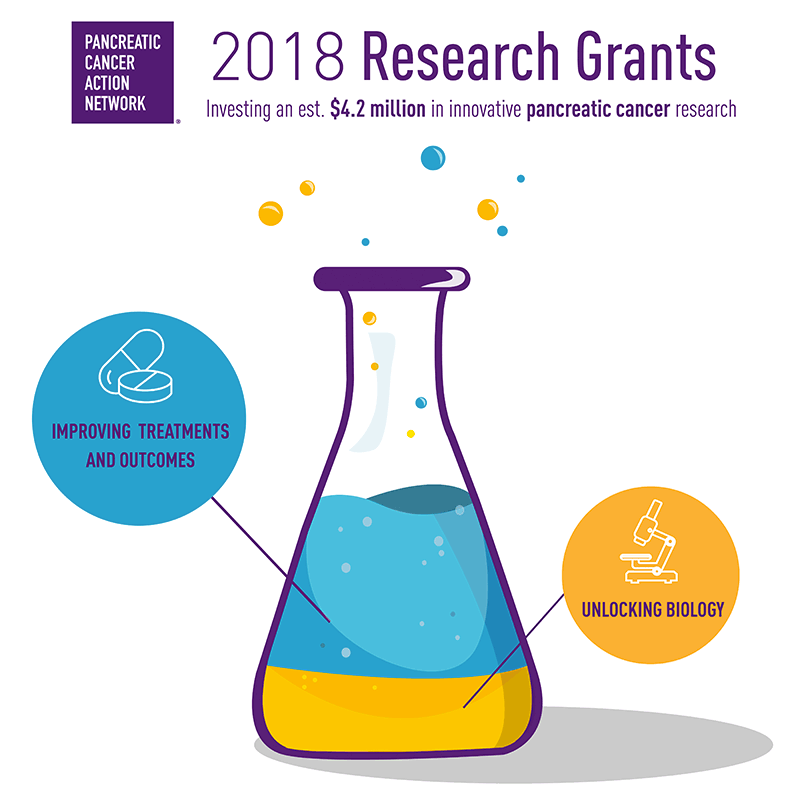 This marks the 16th year of the Research Grants Program, and the organization has awarded 167 grants to 166 scientists at 62 institutions to date. PanCAN's cumulative research investment is monumental – projected to be more than $56 million over 16 years, including both our competitive Research Grants Program and leading-edge scientific and clinical initiatives.
PanCAN's next call for applications will be in the fall 2018.
Please join us in welcoming this year's new grantees and sharing this announcement:

2018 Skip Viragh Pancreatic Cancer Action Network Catalyst Grant
Andrew Aguirre, MD, PhD
Dana-Farber Cancer Institute
Functional Genetic Discovery of Novel Targets in Pancreatic Cancer

2018 Pancreatic Cancer Action Network Translational Research Grant
Darren Carpizo, MD, PhD, Rutgers, The State University of New Jersey
Co-PI: Patrick Mehlen, PhD, Université Claude Bernard Lyon 1
Investigating Netrin-1 as a New Therapeutic Target in Pancreatic Cancer

2018 The Ruth and Frank Pratte Foundation Pancreatic Cancer Action Network Catalyst Grant
Iok In Christine Chio, PhD
Columbia University Medical Center
Targeting Redox Status and mRNA translation in Pancreatic Cancer

2018 Pancreatic Cancer Action Network Translational Research Grant
Michael Curran, PhD
MD Anderson Cancer Center
Pro-Inflammatory Conversion of the PDAC Microenvironment

2018 Pancreatic Cancer Action Network Translational Research Grant
Sharon Gorski, PhD, British Columbia Cancer Agency Branch (BC Cancer)
Co-PI: Robert Young, PhD, MC, FRSC, Simon Fraser University
ATG4 Family Members as Therapeutic Targets for Pancreatic Cancer

2018 Skip Viragh Pancreatic Cancer Action Network Career Development Award
Karen Mann, PhD
Moffitt Cancer Center
RBFOX2-Mediated Alternative Splicing in Pancreatic Cancer Metastasis

2018 Pancreatic Cancer Action Network Translational Research Grant
Kenneth Shroyer, MD, PhD
Stony Brook University
Keratin 17 Is a Novel Actionable Target in Pancreatic Ductal Adenocarcinoma