RESEARCH ACCELERATION NETWORK (RAN) GRANT:
Two landmark gifts accelerate pancreatic cancer research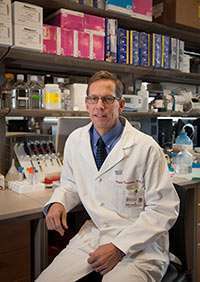 Robert Vonderheide, MD, DPhil
The Pancreatic Cancer Action Network is changing the pancreatic cancer research and scientific landscape by coordinating the efforts of researchers and scientists who are committed to changing the way we fight this disease.
Our private, peer-reviewed research program through the prestigious American Association for Cancer Research (AACR) has built a pancreatic cancer research community where none existed a decade ago. Our efforts have incubated innovative research, grown the number of researchers directly working on pancreatic cancer, nurtured collaboration across disciplines and institutions, and expedited scientific progress to benefit patients. Our work, and that of our past and present brilliant grantees, is creating phenomenal momentum in the pancreatic cancer community. So much so that for the first time in the history of the Pancreatic Cancer Action Network, we have received funding for two, $1 million research grants.
These extraordinary gifts will each fund a $1 million Research Acceleration Network (RAN) Grant. One grant was made in memory of Skip Viragh and the other was funded by Tempur-Pedic in memory of Tim Miller. In addition to the RAN Grant gift, Skip's memory has also influenced the continuation of the annual funding of a $200,000 Career Development Award in his name. As a leading Corporate Champion, Tempur-Pedic has made the largest financial investment in our organization of any entity to date.
The RAN Grants provide funding and strategic project management support to a research project with the potential to help double the survival of pancreatic cancer by 2020. One RAN grant provides $1 million in funding over a one-to-three year period for a multi-institutional team project. The projects consist of at least two co-principal investigators from distinct institutions and include a clinical component with an endpoint goal oriented to improving detection or treatment of pancreatic cancer.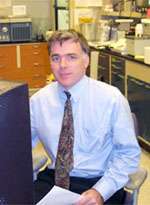 Michael Goggins, MD
The inaugural 2013 RAN grants were awarded to research teams at prestigious institutions. The recipients were selected by a peer-review committee assembled by the AACR. One RAN grant was awarded to Michael Goggins, MD, at Johns Hopkins University, with co-investigators at the University of Pennsylvania and other institutions. This project focuses on early detection of pancreatic cancer in individuals with an increased risk of developing the disease. The principal investigator of the other RAN grant is Robert Vonderheide, MD, DPhil , at the University of Pennsylvania, with co-investigators at New York University. Their project aims to utilize the patient's immune system to attack the tumor. Detailed summaries of the two inaugural RAN grant projects appear below.
"We are thrilled to find ourselves in the fortunate position to have two donors, both a family foundation and a corporation, excited to fund our inaugural RAN Grants," said Pancreatic Cancer Action Network President and CEO Julie Fleshman. "Both RAN Grants have extraordinary potential to help us reach our goal to double survival by 2020. We are extremely grateful to these generous donors for investing in this exciting opportunity and for helping us to change the course of history for this difficult disease."
In the coming weeks, we will share in-depth stories about Skip Viragh and Tempur-Pedic that demonstrate why such support goes way beyond corporate and foundation giving and resonates in a very personal and meaningful way.
Skip Viragh was a successful entrepreneur in the financial services industry who lost his life to pancreatic cancer in 2003. Because of Skip's success and generosity, his legacy lives on through the passionate commitment to support critical scientific research for pancreatic cancer. The funding of the Skip Viragh – Pancreatic Cancer Action Network – AACR Inaugural Research Acceleration Network Grant in memory of Skip brings the commitment to the Pancreatic Cancer Action Network since 2004 to more than $2 million. These extraordinary gifts exemplify Skip's desire to ensure that one day no other family will suffer the loss of a loved one to pancreatic cancer. Learn about Dr. Goggins' research project funded in memory of Skip Viragh.
Tempur-Pedic's most recent $1 million gift to fund the 2013 Tempur-Pedic – Pancreatic Cancer Action Network – AACR Inaugural Research Acceleration Network Grant in memory of Tim Miller is only the latest outstanding show of support offered by our leading Corporate Champion. Having given more than $2.1 million since 2009, the company has remained steadfast in raising awareness and providing its retailers and customers with ways to support the Pancreatic Cancer Action Network's goal of doubling the pancreatic cancer survival rate by 2020. Learn about Dr. Vonderheide's research project funded by Tempur-Pedic.