"We do not stand on the sidelines. We are in the field, working with researchers to make real progress for patients."
— Lynn Matrisian, PhD, MBA,
Chief Science Officer, Pancreatic Cancer Action Network
As part of our strategic approach to improve outcomes for pancreatic cancer patients, our Scientific and Medical Affairs team conducts independent and collaborative research. We disseminate important findings through prestigious journal publications, posters and presentations at international meetings. As a result, we are unifying and activating the research community with the urgency and passion to drive progress and improve patients' lives around the world.
Our Cancer Research article was the journal's most cited article in 2014 and continues to be referenced in major publications today.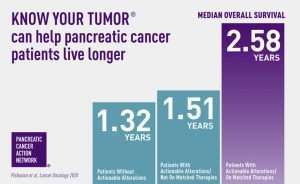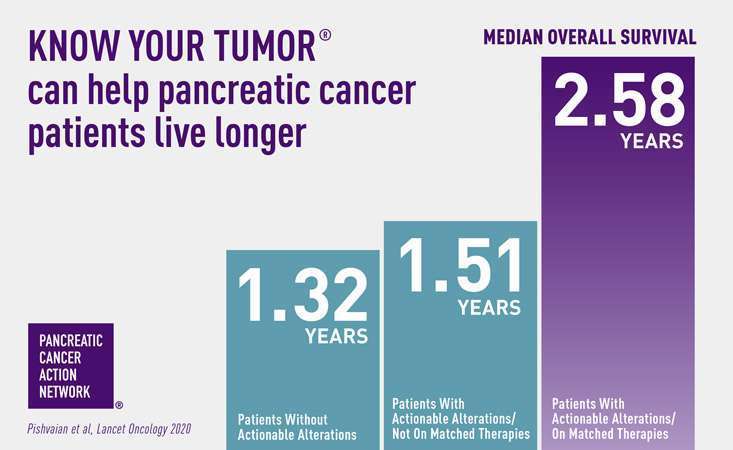 Data published in Lancet Oncology in 2020 showed that PanCAN's Know Your Tumor® precision medicine service can help pancreatic cancer patients live longer. The results showed, for the first time, that patients who are able to go on therapies that match their tumor biology live an average of one year longer compared to patients who don't.
Research conducted by PanCAN's Scientific and Medical Affairs team is shining a light on the needs of patients and caregivers to shape a brighter future. We are also learning from past efforts to ensure that the field evolves. In doing so, we are holding ourselves and our public and private partners accountable to progress.
We are asking big questions that might otherwise go unaddressed without trusted voices like  PanCAN actively participating in research.
Explore Our Research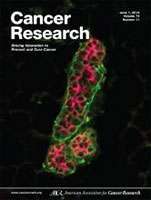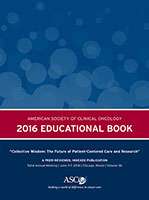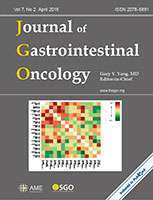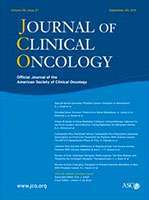 Improving Clinical Trials
More efficient clinical trials in pancreatic cancer: develop better treatment options, faster
Journal of Cancer Metastasis and Treatment, 2022.
Trends in pancreatic cancer clinical trials in the United States
Medical Research Archives, 2021.
Evaluation of Pancreatic Cancer Clinical Trials and Benchmarks for Clinically Meaningful Future Trials: A Systematic Review
JAMA Oncology, 2016.
The Past, Present, and Future of Pancreatic Cancer Clinical Trials
American Society of Clinical Oncology Educational Book, 2016.
Pancreatic Cancer Clinical Trials and Accrual in the United States
Journal of Clinical Oncology, 2013.
Research Field Overview
Management of Patients With Pancreatic Cancer Using the "Right Track" Model
The Oncologist, 2023.
Estimated Projection of US Cancer Incidence and Death to 2040
JAMA Network Open, 2021.
Private Funding for Pancreatic Cancer Research: More Than a Chip Shot.
Gastroenterology, 2017.
Projecting Cancer Incidence and Deaths to 2030: The Unexpected Burden of Thyroid, Liver, and Pancreas Cancers in the United States
Cancer Research, 2014.
Supportive Care and Patient/Caregiver Surveys
Pre-Diagnosis Pain in Patients With Pancreatic Cancer Signals the Need for Aggressive Symptom Management
The Oncologist, 2023.
Addressing unmet needs for people with cancer cachexia: recommendations from a multistakeholder workshop
Journal of Cachexia, Sarcopenia and Muscle, 2022.
Leveraging patient-reported outcomes (PROs) in patients with pancreatic cancer: The Pancreatic Cancer Action Network (PanCAN) online patient registry experience
Cancer Medicine, 2021.
Pancreatic Cancer-Associated Pain Management
The Oncologist, 2021.
Frequency of Appropriate Use of Pancreatic Enzyme Replacement Therapy and Symptomatic Response in Pancreatic Cancer Patients
Pancreas, 2019.
Pancreas Cancer-Associated Weight Loss
The Oncologist, 2018.
Patient and caregiver awareness of pancreatic cancer treatments and clinical trials
Gastrointestinal Oncology, 2016.
Pancreatic cancer: Patient and caregiver perceptions on diagnosis, psychological impact, and importance of support
Pancreatology, 2015.
Know Your Tumor® Precision Medicine Service
Retrospective Case Series Analysis of RAF Family Alterations in Pancreatic Cancer: Real-World Outcomes From Targeted and Standard Therapies
Journal of Clinical Oncology Precision Oncology, 2021.
Overall survival in patients with pancreatic cancer receiving matched therapies following molecular profiling: a retrospective analysis of the Know Your Tumor registry trial
Lancet Oncology, 2020.
Outcomes in Patients With Pancreatic Adenocarcinoma With Genetic Mutations in DNA Damage Response Pathways: Results From the Know Your Tumor
Journal of Clinical Oncology Precision Oncology, 2019.
Molecular Profiling of Pancreatic Cancer Patients: Initial Results from the Know Your Tumor Initiative
Clinical Cancer Research, 2018.
Identification of a novel metabolic-related mutation (IDH1) in metastatic pancreatic cancer
Cancer Biology & Therapy, 2016.
A pilot study evaluating concordance between blood-based and patient-matched tumor molecular testing within pancreatic cancer patients participating in the Know Your Tumor (KYT) initiative
Oncotarget, 2016.
Early Detection Initiative
Imaging of the Pancreas (IMAP) in New-Onset Diabetes (NOD): A Prospective Pilot Study
Clinical and Translational Gastroenterology, 2022.
Early Detection Initiative: A randomized controlled trial of algorithm-based screening in patients with new onset hyperglycemia and diabetes for early detection of pancreatic ductal adenocarcinoma
Contemporary Clinical Trials, 2022.
Potential Cost-Effectiveness of Risk-Based Pancreatic Cancer Screening in Patients With New-Onset Diabetes
Journal of the National Comprehensive Cancer Network, 2021.
Artificial Intelligence and Early Detection of Pancreatic Cancer: 2020 Summative Review
Pancreas, 2021.
Meet Our Scientific and Medical Leadership
With generous partners like you, we are picking up the pace of scientific and medical research. We cannot wait because patients cannot wait.
Make a Gift Today