Research in the News
Researchers participate in Scientific Session amid An Evening with the Stars festivities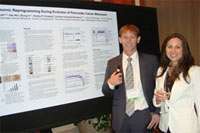 2012 The Daniel and Janet Mordecai Family Foundation – Pathway to Leadership Grant recipient Oliver McDonald, MD, PhD, smiles in front of his poster with Jennifer Bailey, PhD, recipient of a 2011 Pathway to Leadership grant.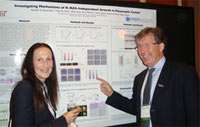 Tyler Jacks, PhD, recipient of the 2012 Blum-Kovler – Innovative Grant, explains his poster to Scientific Advisory Board member and immediate past chair, Dafna Bar-Sagi, PhD.
The Pancreatic Cancer Action Network's 15th annual An Evening with the Stars gala took place on October 20, 2012, at the glamorous Beverly Wilshire Hotel. The event was a huge success, bringing in over $1 million. Included among the hundreds of attendees were pancreatic cancer scientists and clinicians, fighting the disease daily from their laboratory benches, hospitals, and medical offices.
Earlier in the weekend, the researchers gathered for the Pancreatic Cancer Action Network's 5th annual Scientific Session. The organization's Scientific and Medical Advisory Boards, as well as the Board of Directors, listened to presentations given by researchers with current Pancreatic Cancer Action Network grants. In addition to providing funding for critical research projects, a major goal of our grants program is to build a Community for Progress, whereby grant recipients are offered considerable professional and career development opportunities, including mentorship and networking with leading scientists.
This Scientific Session serves to build and strengthen this Community for Progress. After each scientist spoke about his/her progress and intended future directions, there was vibrant discussion with leading experts in the field. The speakers were offered suggestions for how to best approach their experimental aims, and several opportunities for collaboration arose. Each research grant recipient was challenged to think carefully about how his/her work would move us in the right direction towards our organizational goal of doubling the survival rate of pancreatic cancer by 2020.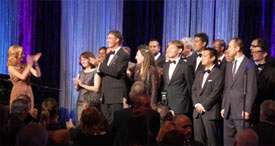 Research grant recipients from 2011 and 2012 stand proudly on stage at the gala with Julie Fleshman, President and CEO of the Pancreatic Cancer Action Network.
In addition, the Pancreatic Cancer Action Network hosted a poster session and reception, allowing the recent 2012 grant recipients to highlight their proposed projects and receive similar feedback and ideas from experts in the field.
At the gala itself, each current research grant recipient was individually introduced and invited to the stage. They were greeted by a roaring standing ovation from the crowd, proving how much the community values our researchers and their efforts. It was overall an extremely successful and motivating weekend, and we are confident that our researchers will return to their laboratories and clinics reinvigorated to know, fight, and end pancreatic cancer.