Research in the News
Tempur-Pedic® CEO Meets with Grant Recipients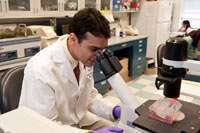 Zeshaan Rasheed, MD, PhD
On Monday, September 26, 2011, Mark Sarvary, CEO and President of Tempur-Pedic International Inc., along with his wife and son, met with two grant recipients whose research projects have been funded by Tempur-Pedic Retailers – Pancreatic Cancer Action Network grants. Pancreatic Cancer Action Network President and CEO Julie Fleshman, JD, MBA also joined the meeting at Columbia University. The grantees were Zeshaan Rasheed, MD, PhD, recipient of the inaugural Pancreatic Cancer Action Network Pathway to Leadership Grant in 2010, and Kenneth Olive, PhD, recipient of a 2011 Career Development Award, both funded by the generous support of Tempur-Pedic.
Tempur-Pedic recently announced the third year of their Hugs Back™ campaign in support of the fight against pancreatic cancer. During the month of November, the company has committed to donating $10 to the Pancreatic Cancer Action Network for every individual who tests a Tempur-Pedic mattress at a participating authorized retailer. Additionally, they will continue to sell My Tempur-Pedic Teddy Bears®, with $20 from each purchase going to the fight against pancreatic cancer.
The first two years of the Hugs Back campaign have raised over $800,000, all of which has been dedicated to supporting these two critical research grants.
"We at the Pancreatic Cancer Action Network are extremely grateful for our relationship with Tempur-Pedic," said Fleshman. "This meeting was a fantastic opportunity to bring together Tempur-Pedic and the grant recipients they are funding, and give Mark a chance to learn more about their research and see the value of Tempur-Pedic's investment."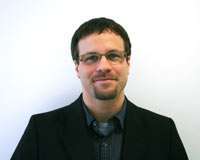 Kenneth Olive, PhD
Drs. Olive and Rasheed each had a chance to describe their research aims and progress to Sarvary. Dr. Rasheed commented that, "We had terrific dialogue. Mark and his family really took the time to understand, and offered great insights."
Dr. Rasheed went on to emphasize the impact this funding has had on his career. The Pathway to Leadership grant is designed to support a postdoctoral or clinical fellow as he/she is working in the laboratory of a mentor, and then transitions to an independent faculty position. Dr. Rasheed was recently promoted to Assistant Professor of Oncology at Johns Hopkins University, and cites his Tempur-Pedic – Pancreatic Cancer Action Network funding as playing a "huge role" in making him "more attractive" for this prestigious promotion, which is a nice validation point that this grant mechanism is working as designed.
Sarvary noted that, "Tempur-Pedic believes in the Pancreatic Cancer Action Network's comprehensive approach to battling this deadly disease. Today was a great opportunity to see in more detail how the private funding of research is helping to advance the larger mission of the organization. I very much appreciate Dr. Olive, Dr. Rasheed and Julie's time to illustrate specifically the ways in which Tempur-Pedic's efforts are creating an impact for the pancreatic cancer community."
For more information about Tempur-Pedic® as a Corporate Champion of the Pancreatic Cancer Action Network, click here.
Learn more about Dr. Ken Olive and Dr. Zeshaan Rasheed's research projects.