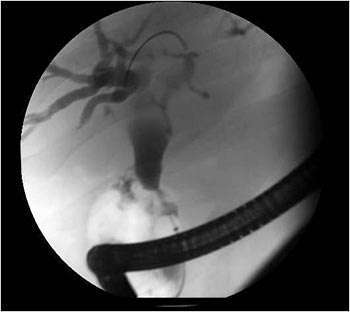 Esta imagen es una cortesía de Shawn Mallery, MD & Minnesota Pancreas and Liver Center
Se trata de un procedimiento ambulatorio que, por lo general, se realiza en la unidad de endoscopia de un hospital o de un centro de cirugía ambulatoria. Bajo los efectos de sedante se hace avanzar una sonda delgada especial con luz, llamada duodenoscopio, a través de la boca del paciente, pasando el estómago y hasta la primera parte del intestino delgado, llamada duodeno. Una sonda más pequeña, llamada catéter, se introduce a través del duodenoscopio hacia los conductos biliar y pancreático. Se inyecta un medio de contraste en estos conductos y se toma una imagen de radiografía, la que muestra si en los conductos se encuentra algún estrechamiento o bloqueo por un tumor u otra afección.
Se puede usar una ERCP de forma terapéutica en situaciones en las que el conducto biliar se encuentra bloqueado por un tumor, provocando ictericia. Durante una ERCP se puede colocar una endoprótesis en el conducto obstruido para mantenerlo abierto y permitir el flujo de la bilis. Este es el método preferido de tratamiento de la ictericia debida a la obstrucción por un tumor, ya que es mucho menos agresivo que el tratamiento quirúrgico. También, se puede obtener biopsias, o muestras del tumor, durante este procedimiento.
La ERCP se realiza generalmente cuando no se pueden detectar lesiones de páncreas mediante otros exámenes o cuando existen síntomas de ictericia. Aproximadamente 5 a 7% de los pacientes sufrirán de pancreatitis (inflamación del páncreas) como complicación de la ERCP. A menudo, la pancreatitis es leve, pero se puede presentar una pancreatitis grave. Otras complicaciones poco comunes de la ERCP son la hemorragia gastrointestinal, el desgarro por causa del endoscopio, las reacciones a los anestésicos y las infecciones. Algunas veces, los pacientes deben hospitalizarse por una noche para tenerlos en observación después del procedimiento.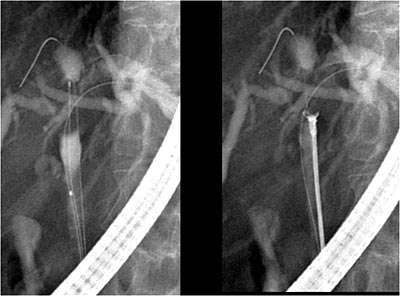 Esta imagen es una cortesía de Shawn Mallery, MD & Minnesota Pancreas and Liver Center
Llámenos hoy y hable con un Administrador de Casos.
Lunes a Viernes 8am-5pm Tiempo Pacifico
Llame gratuitamente: 877-272-6226
Correo electrónico: patientservices@pancan.org
---
La información proporcionada por el Pancreatic Cancer Action Network, Inc. ("PanCAN") no es un substituto para el consejo médico, diagnóstico, tratamiento u otros servicios de atención médica. PanCAN puede proporcionarle información sobre médicos, productos, servicios, estudios clínicos o tratamientos relacionados con el cáncer de páncreas, pero PanCAN no recomienda ni respalda ningún recurso de atención de la salud en particular. Además, tenga en cuenta que cualquier información personal que usted proporciona a los socios de PanCAN durante las comunicaciones telefónicas y / o correo electrónico puede ser almacenada y utilizada para ayudar a PanCAN a cumplir con su misión de ayudar a los pacientes con cáncer de páncreas, y de la búsqueda de curas y tratamientos para el cáncer de páncreas. La información almacenada puede utilizarse para informar a los programas y actividades de PanCAN. La información también puede ser proporcionada en forma agregada o limitada a grupos terceros para guiar futuros esfuerzos de investigación científica y tratamiento del cáncer de páncreas. PanCAN no proporcionará información directa de identificación personal (como su nombre o información de contacto) a terceros sin su consentimiento previo por escrito, a menos que sea requerido o permitido por la ley.