A Teenager Takes on a Very Adult Volunteer Leadership Role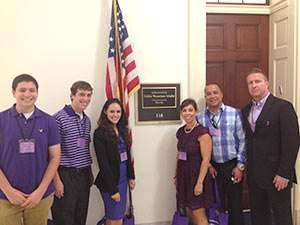 Broward/Palm Beach (Fla.) Affiliate Advocacy Coordinator Ben Schecter (second from left) is flanked by other Florida constituents as he prepares to visit with a member of congress in Washington, D.C., at Pancreatic Cancer Advocacy Day, June 2013.
Ben Schecter is marking his third year in a high-profile volunteer role with the Pancreatic Cancer Action Network's Broward/Palm Beach Affiliate in Florida. As the Advocacy Coordinator, one of five core leadership roles in the affiliate, he's charged with organizing local advocacy efforts and communicating frequently with the national office for updates on legislative priorities – a role that could easily amount to a full-time job.
But Ben's days are already full: Physics. Calculus. English Seminar. Spanish. Government/Politics. Eight jam-packed periods followed by basketball practice (he's varsity captain), homework, paper-writing, exam prep and then, volunteer work.
His schedule, like his backpack, has gotten heavier over the years. But Ben, now 17 and a senior at Pinecrest High School in Fort Lauderdale, says he doesn't remember having second-thoughts about adding volunteering to the roster when he raised his hand to take the Advocacy Coordinator role as a 14-year-old.
Honestly, he says, the only thing on his mind was paying tribute to his late grandfather, Mark Summers, who died of pancreatic cancer just a few years prior.
"My grandfather taught me a lot about everything. We were very close. Essentially I was his first son, because he had three daughters, and I was the first grandchild.
"I've always tried to be like him – he was a never-give-up kind of person – and I try to have that philosophy, too."
Although it's a great philosophy to try and maintain, he admits sometimes it's difficult to juggle priorities.
"Time management can be tough. I will admit that I've been known to put an affiliate conference call or webinar on speaker while I crack open a textbook to study physics or calculus.
"But it's worth it. And I've gotten really good at juggling."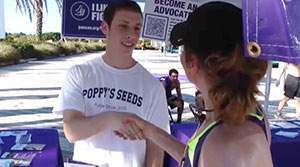 Ben Schecter greets a participant at the Know It. Fight It. End It. booth at PurpleStride South Florida 2013.
His "never-give-up" attitude was especially important as Ben worked with his fellow volunteers and advocates to ensure passage of the Recalcitrant Cancer Research Act in 2013. The bill calls upon the National Cancer Institute to make pancreatic cancer research a national priority. It was signed into law by President Obama after many years of heavy advocacy outreach by Pancreatic Cancer Action Network supporters and advocates across the country.
During in-person meetings with his congressional leaders on Capitol Hill during Pancreatic Cancer Advocacy Day (which happens annually and is coming up this year June 16-17), Ben used his youth to his advantage.
"When I walk into a meeting with a room full of adults, it has really helped to just present myself as a teenager who is extremely passionate about the cause," he says. "I feel like I've grabbed the attention of my representative and senators because of my age and my perspective."
But his age has also presented some challenges. He admits that when he first signed on as Advocacy Coordinator, it was sometimes difficult to command a presence at volunteer meetings.
But he understood that earning respect takes time.
"People always listened to what I had to say, although I know they were thinking, 'Who is this little kid?' But they got to know me, and I got more comfortable in my role and realized that at the end of the day everyone just wants to help and make a difference, so age isn't that big of a deal."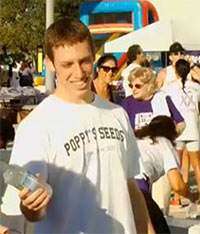 Ben Schecter, 17, signed on as the volunteer Advocacy Coordinator, a core leadership role, within the Broward/Palm Beach affiliate when he was 14.
What is a big deal, he now realizes, is seeing that he may have encouraged more youth to join the fight against pancreatic cancer thanks to his involvement. Affiliate meetings are now attended by not only adult volunteers, but often their children who are also helping raise awareness among their peers. 
"I think kid volunteers bring a different perspective, which is good. It's inspiring to see youth doing something to support a cause that they care about. I feel like I can also offer suggestions within our affiliate on ways to get more kids involved, since I'm closer to that age."
Ben adds that supporting the organization is a great way for older students to get volunteer hours for college applications and resumes, so it's a win-win for them and for the affiliate.
Volunteering has handed Ben a megaphone for touting his passion for ending pancreatic cancer not only in Washington, D.C., but back home in class. He has spoken in front of his government/politics class about his experience as an advocate on the Hill, he has set up awareness tables at school and distributed purple ribbon pins and fliers about how to support the cause, and he no longer feels intimidated about speaking up in general.
"I can better relate to people, my communication and leadership skills overall are better and I feel much more prepared for college and my future after college.
"I'm unsure about exactly what the future holds, but I don't ever see myself giving up my involvement with the Pancreatic Cancer Action Network."