A Donor Advised Fund (DAF) is a simple, flexible and tax-advantaged way you can make charitable donations. Administered by a third party, DAFs allow you to give cash, stock and other assets and receive an immediate tax deduction when the contribution is made. DAFs are becoming an increasingly popular charitable vehicle and a great way to organize your giving so you make the biggest difference. Your generosity makes an impactful statement to the pancreatic cancer community that the status quo is not acceptable. You can quickly and easily designate a grant from your DAF to the Pancreatic Cancer Action Network today!
How It Works
Open a Donor Advised Fund account as you would any other investment account. Larger institutions like Fidelity Charitable and Schwab Charitable let you open them online.
Fund your DAF account and take a tax deduction. (Any investment growth is tax-free.)
Recommend grants be made to the Pancreatic Cancer Action Network.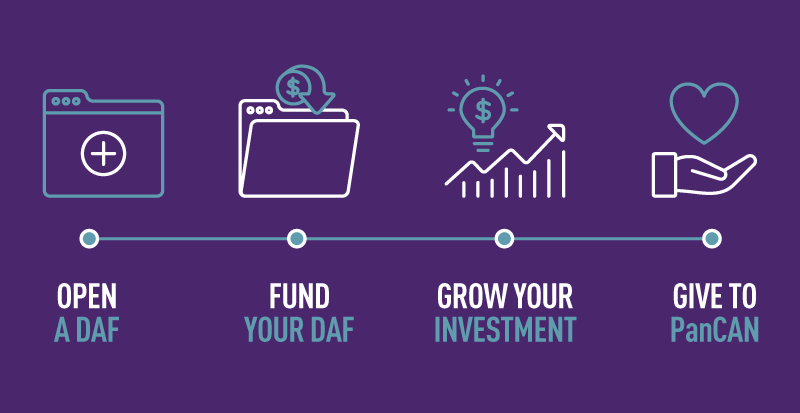 Advantages of Donor Advised Funds
Donor Advised Funds offer numerous benefits that direct donations to a charity may not, including:
Convenience – A DAF professional takes care of everything including all record-keeping, disbursements, and tax receipts. Enjoy the convenience of having your charitable dollars in one place.
Tax-efficiency – Contributions are tax-deductible and any investment growth is tax-free.
Building a Family Legacy – A DAF can be the first step toward building a family legacy. By creating your fund, you can decide how it should be used when you are no longer able to serve as the fund's advisor.
Maintaining Your Privacy – Remain anonymous to the recipient if you choose.
No Start-up Costs – There is no cost to establish a DAF, though there are often minimum initial charitable contributions to establish the DAF (typically $5,000 or more).*
No Transaction Fees – Once approved, 100 percent of your recommended grant goes to PanCAN.
*Sponsoring organizations generally assess an administrative fee on the assets in a DAF. These fees vary by the charity that sponsors a DAF program.
Contact Information
To learn more about making a gift to the Pancreatic Cancer Action Network using a Donor Advised Fund, please contact us at info@pancan.org or call (877) 272-6226.