Pre-Teens and Younger Raise Funds Creatively, Take Top Billing at PurpleStride Events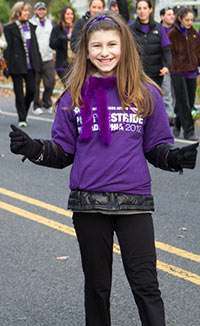 Ali Chesnick brought in nearly $50,000 for PurpleStride Philadelphia in 2012.
Getting Creative with Fundraising Strategies
It might be easy to assume that Ali Chesnick of Cherry Hill, N.J., is on the fast-track to a very successful career in professional fundraising.
After all, she raised nearly $50,000 on her own for Team Boychik at PurpleStride Philadelphia 2012, and the team itself brought in $53,000 – well over their goal of $10,000. And both Ali and her team continued to raise significant funds at PurpleStride Philadelphia 2103, finishing the event as top fundraisers both years.
At 12, Ali is far from having her life planned out. But the one thing she knows for sure is that she will always support the Pancreatic Cancer Action Network. The cause is personal to her.
"A little over a year ago my grandfather, Pop-pop, was diagnosed with pancreatic cancer, and he passed away last year," she says. "Pop-pop was such a fun, loving person, and I miss him a lot. He is my inspiration."
Ali worked to raise funds for her local PurpleStride by telling everyone she knew about her grandfather's battle with pancreatic cancer. Her bat mitzvah project is devoted to raising funds in his memory to fight pancreatic cancer, and so are videos she made two years in a row to raise awareness of the disease. She put the videos on YouTube, and thanks to a lot of outreach and the generous donations of many of who knew and admired her grandfather, the money steadily came in.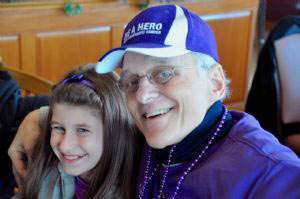 Ali Chesnick with her grandfather, Pop-pop, before he passed away from pancreatic cancer.
Ali says her number-one fundraising tip, especially for team captains like herself, is to communicate often with friends and family. She also relies on her connections and encourages teammates to do the same.
Ali shares this example: "A family friend is a close friend of author Mitch Albom, who has been touched by pancreatic cancer. I reached out to find out if he would give away personally inscribed copies of his recently released book, "The First Phone Call from Heaven" to two members of Team Boychik, and he did."
Team Boychik members seemed to appreciate her enthusiasm and creativity for keeping them engaged.
"It's nice to really get involved with your team members' success – the more involved you are, the more excited and involved they will be," Ali says.
Learning beyond the Classroom
| | |
| --- | --- |
| Brennan Tominaga with his certificate for top fundraiser for Team PurpleReign at PurpleStride Los Angeles. | Brennan Tominaga appreciates the friends he's met while volunteering. Here he poses with Avery Kertes, at PurpleStride Orange County. |
Brennan Tominaga's Uncle Curt passed away when he was in kindergarten. Now 11, the fifth grader from Torrance, Calif., has volunteered at and participated in PurpleStride Los Angeles three times. He has been the top fundraiser for Team Purple Reign, raising more than $2,100 on his own the past two years.
His top tip for fundraising? He agrees with Ali that it comes down to communication.
"I like using social media," he says. "I don't have a Facebook page, but I ask my mom to post on her page for me. I've also written letters to family and friends and mailed them, and I've made lots of phone calls. It's hard for someone to say no when you ask them on the phone to make a donation!"
His mother Julia, on staff at the Pancreatic Cancer Action Network national office, says having Brennan involved with the organization has taught him life skills that really can't be learned in other ways.
"The first time Brennan volunteered with us, he told me it felt good to help others," she says. "It's also opened up opportunities for us to talk about our shared loss. I try to focus on the good that he is doing and make sure to tell him how proud his uncle Curt would be of him."
On Top of the World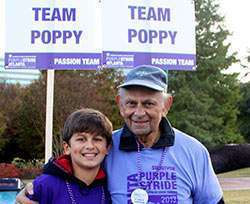 Andrew Ladden with his grandfather Albert Maslia, "Poppy," at PurpleStride Atlanta 2013. Andrew was the event's top fundraiser.
When 12-year-old Andrew Ladden of Atlanta walked with Team Poppy at PurpleStride Atlanta last November, he felt like he was on top of the world. His grandfather Albert Maslia, a pancreatic cancer survivor known as "Poppy" to his loved ones, was right by his side, as were other family members and some of his closest friends.
Andrew had surpassed his personal fundraising goal with more than $15,000 raised, and Team Poppy was the second highest fundraising team with more than $19,000 raised.
But for Andrew, the most memorable part of the day was grabbing a marker to write "Poppy," in large, bold print on the Wall of Survivors.
The two have always shared a deep connection.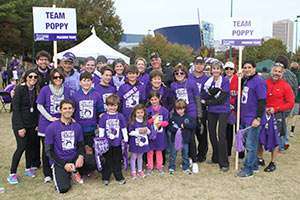 Andrew Ladden's friends and family, all members of Team Poppy, at PurpleStride Atlanta.
"Everyone says I look like Poppy, and I try to be like him too," he says. "I admire that he's brave, he doesn't complain and he always has his head up."
As top fundraiser, Andrew got called to come to the stage during the event ceremony and was recognized among thousands of participants. Looking out over the sea of purple gathered in Centennial Park, with everyone there for the same reason, was the best, he says.
Andrew's bar mitzvah is this April, and as part of this coming-of-age celebration and religious service, he was also encouraged to "repair the world" through a community service project. Team Poppy was that project. With Poppy as his inspiration, the Pancreatic Cancer Action Network and those who depend on it benefit.
"We need to raise more money and get more awareness for this disease," Andrew says. "It's important for kids to do that too. If everybody knows about it and starts to raise money, maybe it'll go away soon."
"My Hero and My Friend"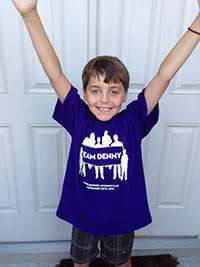 Jackson Carnaghi helped design the shirt worn by Team Denny during PurpleStride Jacksonville.
Talking with 10-year-old Jackson Carnaghi of St. Augustine, Fla., you get the feeling he can remember every detail of the time he spent with his grandfather, John Carnaghi, whom he calls "Denny."
"My Denny taught me golf when I was 2, and on my 7th birthday we played golf in Tallahassee – we had a great golf game together," the 10-year-old recalls. "I think about him every single day. I feel like he is still with me in some ways."
Denny was diagnosed with pancreatic cancer and passed away less than three months later.  Jackson spoke on behalf of the Carnaghi family at the memorial service for his grandfather, on February 26, 2013. These were his remarks:
"My name is Jackson Jay Carnaghi and my grandfather was Denny. He was a very good person who was my hero and my friend. I know he loved a lot of people, and worked really hard for Florida State University (FSU). That was how Denny was. He loved everyone and would do anything to make you feel good and feel loved.
Daddy, I want you to know that Denny really loved you too and he was very proud of you. I know right now he is very proud of you for taking care of all of us.
Mimi (grandma), he loved you very much and was looking forward to traveling with you when he retired.
There were a lot of things Denny didn't like. He didn't like when I didn't eat my dinner or when the Dodgers lost.  He didn't like when FSU lost. He really didn't like when I went to Gator football games.
When they told my Denny he had cancer he had to schedule his surgery real quick. My birthday is December 20th.  My Denny's first surgery was the next day. He told me he was sorry he couldn't do a big birthday party this year.  I told him it was okay because we would have my 10th birthday [later] to make it a big party.
I wish that came true.
I wish I could go golfing with him again.  I wish I could go to another FSU baseball game with him.
I wish I could watch the Dodgers on TV with him again.
When I last saw him in the hospital I told him I loved him and to keep fighting for me.  I know he kept fighting and never gave up.
My mommy told me that Denny lives inside my heart and I hope he does because I miss him very much."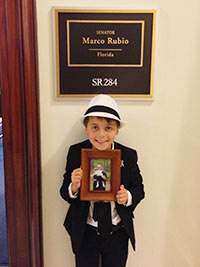 Jackson Carnaghi outside Sen. Marco Rubio's office at Advocacy Day last June. He is holding a picture of his late grandfather, whom he calls his hero and friend.
Jackson has been a staunch supporter and advocate for the Pancreatic Cancer Action Network for the past year. One of his first activities was attending Pancreatic Cancer Advocacy Day in Washington, D.C., with his family last June.
He had mentally prepared himself for a potentially tough experience.
"I thought it would be very sad and emotional, but it was actually cool to meet other people who had been through what I had," he says. "I realized I wasn't the only one, and it made me feel better."
After Advocacy Day, Jackson and his family got a team together to participate in PurpleStride Jacksonville, and he didn't waste a minute brainstorming clever fundraising ideas.
He admits his favorite idea actually caused some discomfort, but he learned a lot about himself in the process. (He also contributed to fundraising efforts for Team Denny, the top fundraising team at PurpleStride Jacksonville 2013, which brought in more than $10,000.) As avid Florida State University fans, Jackson and his family proudly support the Seminoles. But they live in University of Florida country, surrounded by Gators.
Jackson decided that it was time for fans on both sides to participate in a good, old-fashioned challenge to see which team's fans could raise the most money. The clincher? Jackson would dress as a uniformed player of the winning team for Halloween. While he loved issuing the challenge, he admitted Halloween was a little rough.
"I had to dress as a Gator player," he says. And then, putting on a positive spin, adds, "Half of me felt like it was something I had to do, while the other half of me felt like it was something I wanted to do, because it was for pancreatic cancer."
Not to cause any confusion, though, Jackson printed and carried a sign that said, in a nod to the two arch rivals' school colors, "I may be wearing orange and blue, but I'm bleeding garnet and gold."
Amy Osteryoung, Jackson's mother and Advocacy Coordinator for the Jacksonville volunteer affiliate of the Pancreatic Cancer Action Network, says giving back helps him feel that his grandfather's death was not in vain.
"It gives him a lot of solace," she says. "Jackson felt a tremendous loss when my father-in-law passed, and he feels strongly that he can make a difference. He is a man on a mission when it comes to this disease."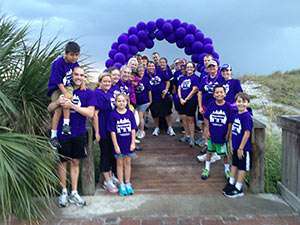 Team Denny, gathered in memory of the late John "Denny" Carnaghi, at PurpleStride Jacksonville.
She applauds all children who take an active stance. "This is the generation that can be very effective – when they speak, it's hard to tell them no."  
As for how to know when the time is right for a child to get involved, it's obviously a personal choice and depends on the child and family, Osteryoung says. But she adds that positive things have come from Jackson's volunteerism. "He has a lot of questions about why his Denny died, and I don't have the answers. But I've tried to channel his need to understand into doing something for others. Feeling like he can make a difference makes Jackson REALLY happy. He is a huge cheerleader for the cause."
Meanwhile, Jackson is busy dreaming up his next fundraiser idea. His current project idea has him thinking about how cool it would be to hold a flag football game—since he loves sports—for a small admission fee. Or to create a video game—something else he loves—that helps people understand the facts and statistics associated with pancreatic cancer.
"I don't want anyone else to feel the pain of losing someone to pancreatic cancer," he says. "We need more people to fight.
"One or two can't do a lot…but think about the difference a thousand people can make."