Thanks to You, We're Making Progress to End the World's Toughest Cancer.
You accomplished a lot by investing in us in 2018.
You've believed in us and have given us the ability to be trailblazers and forward-thinkers. You've played a vital role in changing the course of this disease, demanding better for patients as together, we fight to end pancreatic cancer. Because of you, progress continues.

Each year, you keep us true to our urgent mission to save lives: As we fund more research to find ways to detect pancreatic cancer before it becomes invasive…as we work to make sure patients don't have to face pancreatic cancer alone…and as we spread the word about the symptoms and risk factors, you're there beside us, inspiring us and pushing us to go further.

Thank you.
The Progress You Fund Can Save Lives.
This has been an exciting year. We are continually inspired and motivated to do what we need to do for patients. Everything we do reinforces our goal to demand better and improve patient outcomes. Because at the end of the day, that is what you ask of us, and it is what patients deserve.

We hear you loud and clear.

Each year the urgency to end this disease rises, as do the statistics. It's estimated that in 2018, 55,440 Americans were diagnosed with pancreatic cancer, and 44,330 people died from the disease. In addition, pancreatic cancer is expected to move from the third leading cause of cancer-related death to the second around 2020. These are not the numbers we want to see rising. But thankfully, not all rising numbers are bad. The five-year survival rate for pancreatic cancer has increased by three percentage points in the past four years and now stands at 9 percent, getting us closer to our goal of doubling pancreatic cancer survival by 2020.

The urgency to care for patients and their families facing pancreatic cancer never goes away. We need to raise more awareness about the disease and its symptoms and risk factors, secure more private funding for research grants and advocate for more federal cancer research dollars. We never take no for an answer when it comes to demanding better patient outcomes. That's No. 1 on our list. Which means we will never stop until we end pancreatic cancer.
You are at the center of everything we do. You've been with us in the research labs with our brilliant scientists working to discover the breakthrough that will change everything. You've been with us on Capitol Hill, where we never back down. You've been with us when a young woman called us, desperate for answers after receiving a terrifying diagnosis. You've been with us raising awareness and honoring survivors at our national PurpleStride events. In other words, you've been with us every single step of the way. And we can't thank you enough.
Scientific Research
Because of you, progress continues in research labs. You have transformed the pancreatic cancer research community. There are now more scientists in more labs across the country working tirelessly to deliver the early detection breakthroughs and effective treatment options that will improve patient outcomes.
Your generosity contributed to our overall
research investment

---
More than $8.5 million was invested in promising research – a 17 percent increase over last year's investment

---
Eight grants were awarded to 11 researchers at 10 institutions for $4.2 million to fund efforts to better understand, detect and defeat pancreatic cancer

---
Results published from the first 640 patients to undergo our Know Your Tumor® precision medicine service found that patients whose treatments aligned with their molecular profile had better outcomes
"Your giving allows me to make important strides in research that translate into clinical trials and new treatments, as I continue to demand better for patients. I am humbled to know that you have donated amounts large and small after having a loved one diagnosed with this disease. Know we are fighting for you."
— Stephanie Dougan, PhD
Dana-Farber Cancer Institute
2012 Pathway to Leadership Grant
Your support has enabled us to secure 14 Clinical Trial Consortium sites for our groundbreaking adaptive clinical trial platform, Precision PromiseSM. Set to launch in the first half of 2019, the goal of Precision Promise is to dramatically improve patient outcomes and to double pancreatic cancer survival by 2020.

Donor-supported research grants focus on building and sustaining a pipeline of researchers studying the disease and on supporting research that is positioned to move from the lab to the clinic to improve treatment options for patients.

Since 2003, your donations have helped us fund 167 grants to 166 scientists at 62 institutions, with a total research investment of nearly $57 million, including our competitive Research Grants.

Your generosity resulted in PanCAN's research investment that includes new, large-scale endeavors to revolutionize the design of pancreatic cancer clinical trials and to discover better early detection strategies to improve patient outcomes.

Government Advocacy
Because of you, progress continues on Capitol Hill. You have made it abundantly clear to Congress that we need their leadership to change the pancreatic cancer statistics. We've had a bold presence on Capitol Hill for well over a decade, and during this time, more federal research dollars have been dedicated each year to support the science that drives progress. You raised your voice, and Congress listened.
Your contributions ensure Congress knows
we are not going away ---
Congress approved the largest single medical research funding increase since 2003: A $3 billion increase for medical research at the National Institutes of Health (NIH), including a $275 million increase for the NCI

---
Pancreatic cancer once again became eligible for a portion of $80 million in research funding through the Department of Defense Peer Reviewed Cancer Research Program – a 33 percent increase over last year's $60 million

---
Thanks to you, we saw increased support for pancreatic cancer research at the Department of Defense by 30 percent in the House and 5 percent in the Senate
"Federal funding for pancreatic cancer lags far behind other major cancer killers. Organizations like PanCAN are critical to the support of young investigators, who may make advances in this disease. The investigators who have been funded by your generous support often go on to get many times that value back in federal grants and dollars."
— Anirban Maitra, MBBS
MD Anderson Cancer Center
PanCAN grantee
Scientific & Medical Advisory Board member
National Cancer Institute (NCI) funding for pancreatic cancer increased 22 percent in 2016. This $27 million increase was the largest annual increase in NCI funding for the disease.

Your support helped us host our 12th annual National Pancreatic Cancer Advocacy Day with more than 530 participants on Capitol Hill. In addition, our advocates enjoyed a prestigious scientific panel, which included Norman (Ned) Sharpless, MD, director of the NCI, who discussed important progress and challenges in the field.

Eighteen new members of the 115th Congress joined the Congressional Caucus on the Deadliest Cancers, raising membership to 132 at present (congressional caucuses are similar to coalitions for members of Congress who care about a specific issue).

Together, our more than 20,000 advocates were persistent and consistent with their elected officials to demand better for patients and their families.

Patient Services
Because of you, progress continues to improve patient outcomes. You have helped people on their pancreatic cancer journey, allowing us to provide more resources and speak with more patients and caregivers than any other pancreatic cancer organization in the world. And it all contributes to improving patient outcomes.
Your support can
save lives

---
Patients, caregivers and healthcare professionals called upon our organization 30,470 times for disease information, treatment options and hope

---
Patients, caregivers and healthcare professionals benefitted from more than 12,000 clinical trial searches through PanCAN Patient Services and our Clinical Trial Finder

---
Nearly 360 patients enrolled in Know Your Tumor®, allowing them to make the most informed treatment decisions. Your support gave the 1,635 patients enrolled in Know Your Tumor since 2014 access to this potentially lifesaving service
"Once I find out someone has been diagnosed with pancreatic cancer, the first thing I do is tell them that the best resource I have found is PanCAN and the best thing they can do is to get in touch with PanCAN Patient Services."
— Marie Durbin
3-year pancreatic cancer survivor
Our educational webinars, presented by pancreatic cancer specialists, were watched nearly 3,000 times.

On the road to improving patient outcomes, nearly 400 new patient accounts were created in the Patient Registry, ensuring a lasting legacy of data.

More than 8,000 new patients, caregivers and healthcare professionals received personalized support and resources – all free of charge – by contacting our highly trained PanCAN Patient Services Case Managers for the first time. Your support makes this unique international service possible.

The Survivor Council provided valuable feedback to ensure that the survivor's voice, experience and expertise are integrated into our programs, services and communications; they also engaged with fellow survivors through Advocacy Day and PurpleStride.
Community Engagement
Because of you, progress continues to grow our movement. You've volunteered. You've attended your local PurpleStride and brought friends and family. You've shared the symptoms and risk factors with your network. You've worn more purple than you thought humanly possible. And you've raised significant awareness and grown our movement to new heights. For all of this, we are so grateful.
Your steadfast support keeps our
movement going

---
You raised more than $13 million through PurpleStride, the walk to end pancreatic cancer, with more than 84,000 supporters participating nationwide

---
Thousands of volunteers from our 60 affiliates raised national awareness about pancreatic cancer symptoms and risk factors and the comprehensive patient services we provide

---
Do-it-yourself fundraising more than doubled over last year, to $2.6 million – thanks to Wage Hope My Way events and Facebook fundraising efforts. Over 600 Wage Hope My Way events were held across the country
"Doing nothing about the cancer that took our dad is not an option. We're motivated by the four grandsons he never got to meet. They all contribute and can see how special he was to us through this event."
— Kristal Gutmann
For 12 years, the Gutmann family has hosted a pancake breakfast raising funds for PanCAN in honor of their father. This year, 300 people attended and to date, the event has raised nearly $85,000.
Volunteers brought their voices to Capitol Hill for Advocacy Day, engaged local companies as November Awareness Champions to amplify Pancreatic Cancer Awareness Month, ensured patients were connected to PanCAN Patient Services for the resources they needed and honored loved ones through PurpleLight ceremonies.

Committed volunteers are at the heart of our organization: Nearly 200 affiliate leaders participated in our annual Volunteer Leadership Summit, held in conjunction with our annual Scientific Summit. The goal of Leadership Training is to learn and share best practices for recruitment, generating revenue, raising awareness and integrating the mission to expand our network and accomplish our organizational goals.
Media Coverage
Media coverage has increased awareness about pancreatic cancer risks, symptoms, research, the need for early detection, ways to get involved, PurpleStride and beyond through extensive national, international and local media. News coverage puts PanCAN and pancreatic cancer in the public spotlight and brings more critical support and funding to the cause.
We will never back down.
Our vision to double pancreatic cancer survival by 2020 is still as gutsy and bold as it was when we put a stake in the ground seven years ago. Our unstoppable strides and attitude to achieve it has never diminished. Progress to reach our goal continues because of you.

But reaching our goal to improve patient outcomes is not without challenges. There are six challenges that feed our fire of relentless determination to end pancreatic cancer. Overcoming these challenges is the only way to truly improve the lives of patients and their families today and for all those yet to be diagnosed. In fact, we have a plan in place to do just that. Your support enables us to move the needle forward and face each challenge head-on. Right now we are actively engaged in attacking each of these challenges with the best possible solutions:
Challenge 1
---
There are still not enough researchers and resources focused on pancreatic cancer.
This has changed tremendously since the organization was founded nearly 20 years ago when there was scarcely any research or research community focused on fighting this disease. Today, there is a growing, vibrant, pioneering pancreatic cancer community, which you have played a significant role in creating. You have supported this community by funding research grants from your generous contributions. However, we still need to encourage more researchers to study pancreatic cancer, and we must continue to raise money from both the public and private sectors to ensure that critical and urgent research continues.
Challenge 2
---
Patients are diagnosed too late.
More than 80 percent of patients are diagnosed once their disease has spread. But you are helping to change this. Researchers are striving to identify biomarkers and improve imaging techniques to better detect the disease in its earlier, more treatable stages. Efforts are underway to screen those at high risk, based on family history, genetic syndromes or, as recent evidence suggests, people with new onset of diabetes after the age of 50.
Challenge 3
---
The clinical trial enrollment rate is too low.
Pancreatic cancer clinical trials are essential and urgently needed so researchers can determine whether new treatments are beneficial to people living with pancreatic cancer. Only 4.2 percent of pancreatic adenocarcinoma, the most common type of pancreatic cancer, patients enroll in clinical trials, or around 2,000 patients annually. At this rate, it will take years and years to find effective drugs for patients. Your continued support has been essential in helping us develop strategies to increase clinical trial enrollment.
Challenge 4
---
Traditional clinical trials aren't rapidly producing new treatment options, making this a risky drug development space.
We need a seismic change in how clinical trials are developed and implemented so effective treatment options can be more rapidly created. There has been a long history of clinical trials not matching what patients need, in part because one drug does not fit all. With your continued support, we will change the model of how trials are conducted so that more people are matched with the most effective treatment option for their particular type of pancreatic tumor.
Challenge 5
---
There is still insufficient knowledge of the disease and how best to treat it.
There is still not enough information, data, resources and agreement on the best standard of care to ensure that no matter where a pancreatic cancer patient is treated in our country, they will get the best care possible.
Challenge 6
---
Not enough people know about the disease and PanCAN.
Pancreatic cancer is the world's toughest cancer, and adding to this alarm bell is the fact that pancreatic cancer is expected to become the second leading cause of cancer-related death in the United States around 2020. Because of your generous giving, we are more aggressive than ever in casting a wider net to make sure that all Americans, including physicians, are aware of the symptoms, risk factors and where to go to get help. With no standard early detection test, people must become their own early detection barometer. Knowledge is key – in fact, it's lifesaving.
It's no secret these are hard challenges.
But we've never run from challenges, no matter how daunting they appear. In fact, we stand before them and work relentlessly to develop the solutions to overcome each one. You are what keeps us focused on finding the answers. We know that everything we do is supported by you – your time and money. We also know that the strategic plan we have developed to attack and solve each challenge is only attainable with your continued partnership.

Here's our plan of attack:
Improve Patient Outcomes
---
Increase and influence private and government funding for research

Educate about symptoms and risk factors and develop an early detection strategy

Increase clinical trial enrollment rate

Influence smart, efficient and cost-effective trials

Collect data, generate knowledge and make it widely available
Become Go-To Organization and Raise $50 Million
---
Heighten public awareness, engage more people and raise more money
Pancreatic Cancer Action Network
2017–2018 Financial Position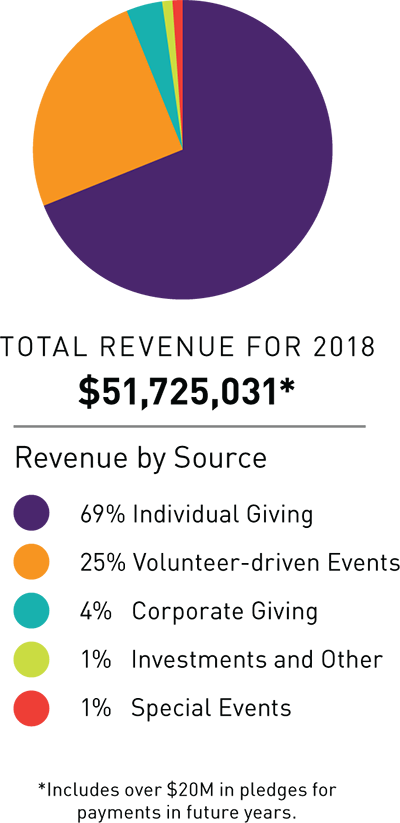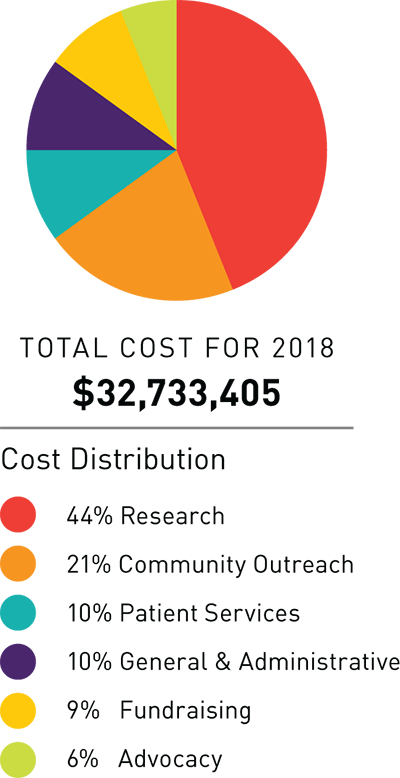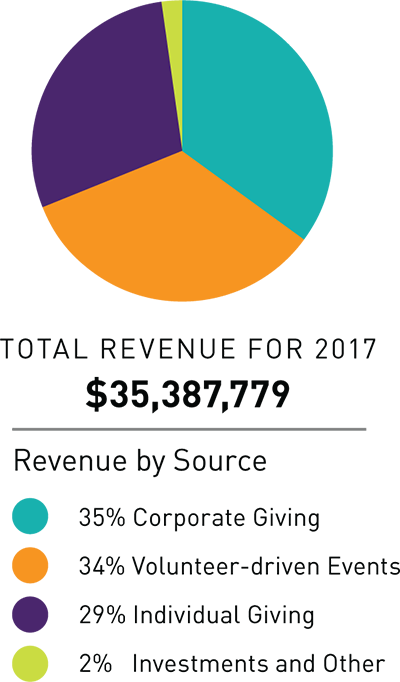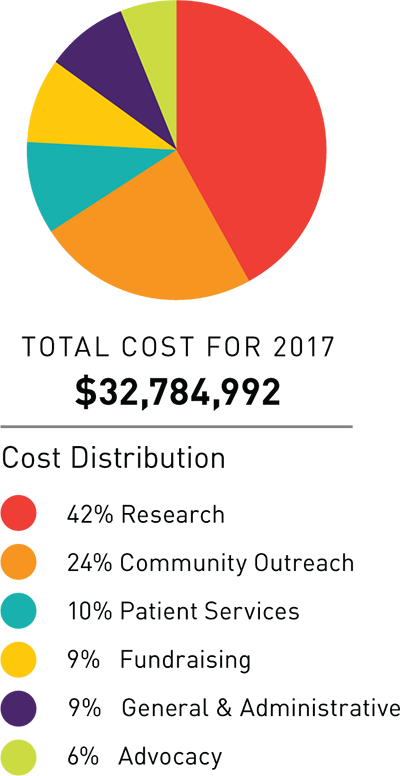 You fill us with gratitude for all you have done for pancreatic cancer patients and families. You gave your time, resources and heart and created more impact than ever before.
As a supporter and a friend to the organization, you have a shared vision, a shared commitment and a shared goal to improve the lives of those with pancreatic cancer, present and future. Thank you for joining us to double pancreatic cancer survival by 2020 as we make meaningful progress to end the world's toughest cancer.

Maybe you're a survivor, or you've been touched by the loss of a loved one, or by the passing of a beloved singer, actor or author. Or perhaps you understand just how serious this disease is and you are one of the lucky ones with no connection other than your desire to get involved, pay it forward and demand better. Whatever it is that brings you to us, from the bottom of our hearts, thank you for continuing to ensure that ending pancreatic cancer is our North Star. Because of you, we will get there.
"Many on the leadership team at PanCAN have been personally touched by pancreatic cancer. We know this is where a great deal of their motivation, determination and focus comes from to improve patient outcomes. No other organization does it better than PanCAN. We are honored to be donors and contribute to the progress that continues with great urgency."
— Richard and Melanie Lundquist
There's More Work to Do
You've enabled us to accomplish so much already. But we need your help to ensure progress continues. Make a gift today so we can end pancreatic cancer together.