Thank you for requesting our digital educational packet. To view and download any of these pieces, click on the links below.
Or, download all in a zip file.
PanCAN AND PATIENT SERVICES INFORMATION
See how PanCAN can help at any point in your journey, including our services for patients and caregivers.
Dive Deeper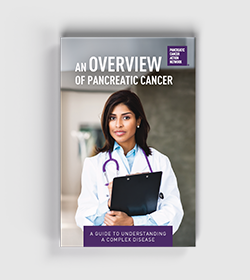 Easy-to-understand information about pancreatic cancer, including how it is diagnosed and treated.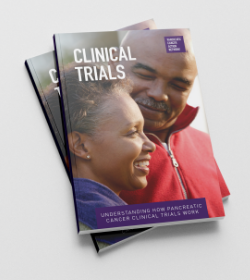 In-depth, easy-to-understand information about clinical trials – an important treatment option.
CONNECT WITH OTHERS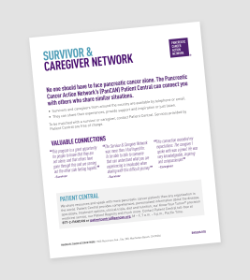 Survivor & Caregiver Network Information
Others who have been in situations similar to yours are available to talk by phone or email.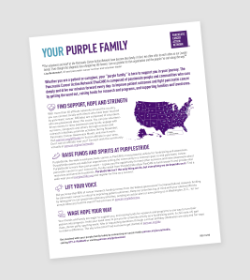 Learn how you can join your community to connect with others locally and to raise awareness and funds.
CONTACT PanCAN'S PATIENT SERVICES
PanCAN Patient Services can give you more free resources, like other in-depth booklets, detailed information on topics discussed in this packet, access to genetic and tumor biomarker testing, support resources and personalized listings of pancreatic cancer specialists or clinical trials. Our highly trained and compassionate staff can also provide answers or resources for any questions you have related to pancreatic cancer.

More Resources
More information and resources related to the topics in this packet and a pancreatic cancer diagnosis are also available on our website.