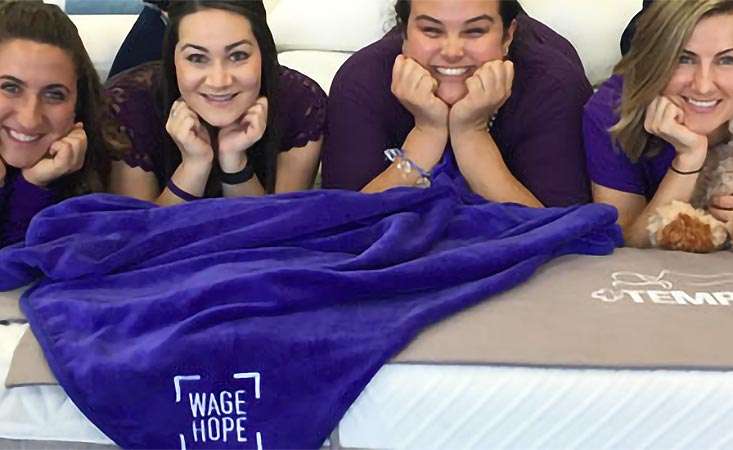 The Tempur-Pedic® Rest Test is back for the 10th straight year! What is the Rest Test?
From Oct. 1-31, Tempur-Pedic® will donate $10 to PanCAN for each person who tries a Tempur-Pedic mattress at a participating retailer and then validates their Rest Test at resttest.com.  A maximum $250,000 donation from Tempur-Pedic is possible, depending on the number of Rest Test validations.
A longtime Pancreatic Cancer Action Network (PanCAN) champion, Tempur-Pedic has been key to raising awareness and funding for PanCAN. They funded a 2013 AACR Inaugural Research Acceleration Network Grant in memory of Tim Miller, brother of Tempur-Pedic executive Todd Miller, who died of pancreatic cancer in 2012.
Tempur-Pedic has raised funds for the cause through a variety of programs: the Tempur-Pedic Hugs Back Teddy Bear campaign featuring (Tempur-Pedic teddy bears sold through retailers and online, the Rest Test, employee giving and individual fundraising – all in support of the vital services PanCAN provides for pancreatic cancer patients and their loved ones.
"This year, Tempur-Pedic has reenergized our commitment to PanCAN and the Rest Test, with nearly double the participating retailers," said Jim O'Donnell, vice president of sales development for Tempur Sealy International, Inc. "We're proud to be a part of the PanCAN family, supporting those affected by pancreatic cancer. And we appreciate the many consumers who will be taking a Rest Test to help support the Pancreatic Cancer Action Network."
There are 3,800 participating Tempur-Pedic Rest Test retailers across the country this year – the most ever!
4 Easy Steps to Take the Rest Test
Find the nearest participating location
Invite a friend or family member
Take the Rest Test: try a mattress
Validate your Rest Test at resttest.com. It will take less than a minute. (Don't forget this part, or your Rest Test won't count toward the potential $250,000 donation to fund critical PanCAN programs.)
Share your support! Post your Rest Test on social media using #PANCaware and #WageHope – and tag us on Facebook. Use our handle @PanCAN On Twitter and Instagram.
Read more about the Rest Test.