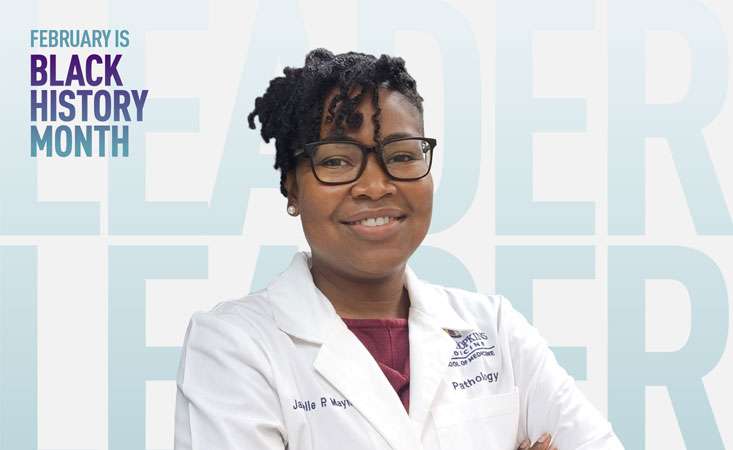 For some types of cancer, like breast and prostate, immune responses may vary based on ancestry and gender, knowledge that can help guide diagnosis and treatment options.
Janielle Maynard, PhD, a 2022 recipient of a PanCAN Career Development Award and an assistant professor of pathology and oncology at the Johns Hopkins University School of Medicine, is exploring these potential variations as related to pancreatic cancer and Black and white patients. She's looking at samples of the tissue surrounding a pancreatic tumor – called the microenvironment – to uncover how the biology of Black and white patients may differ.
"I'm interested in understanding how the cells in the tumor microenvironment are behaving," she said. "And in the context of racial disparities, are they any different in one group population versus the next?"
For some other cancers, that answer has been 'yes.' Researchers have found important differences in how cells in the tumor microenvironment interact with and respond to cancer when comparing patients from different racial and ethnic backgrounds, which has helped to inform approaches to diagnosis and treatment.
Dr. Maynard, whose PanCAN Career Development Award is generously funded by the Chrysalis Fund at the Ventura County Community Foundation, is hoping that her work will uncover similar discoveries for pancreatic cancer, especially important as precision medicine, which is treatment matched to a patient's biology, continues to yield new options for patients.
A person's genetic ancestry is key for precision medicine. Where race is a social construct, ancestry refers to the specific DNA that a person carries forward through the generations.
"As human beings, we are very similar in terms of our DNA," she said. "We have, relatively speaking, small amounts of variation, but those small amounts of variation can have a massive impact on how you develop disease, how disease might be diagnosed, and how it might be treated. And so, the more we know about an individual or individual groups, the better we're able to treat the various diseases that they have."
Even while she takes a deep dive into biology, Dr. Maynard is quick to point out that it's far from the only factor influencing who is diagnosed with pancreatic cancer and their outcomes. There's a complex web of factors at play.
"When it comes to cancer health disparities, we already know that a big contributor is socioeconomic factors," she said. "How people live, the diet they eat, the toxins and pollution that they're exposed to and then what access they have to preventative care as well as treatment once they're diagnosed and so forth. I don't want to overlook that."
The goal is to address both parts of the equation – socioeconomic and biological – all while focusing on improving outcomes and quality of life for patients
RSVP
for our free virtual event, "A Conversation About Pancreatic Cancer in the Black Community," on Feb. 23 featuring a panel of community members and experts who are working to treat and champion pancreatic cancer patients and families in the Black community and beyond.
One critical step – and another part of her PanCAN-funded work – is to look at racial inequities in pancreatic cancer more broadly. This means putting together datasets that compare Black and white patients to try to tease out meaningful differences.
"This is one way where we can go in and see all the things that we assume to be true about pancreatic cancer and ask if they hold up for the African American population," she said. "Is there something that might be unique based on ancestry or based on that population having similar diets, etc., that might stand out? Is there anything that may give us more information about how we can target the disease or how we can diagnose the disease?"
Although important, it's work she describes as difficult to fund.
"I was very grateful to PanCAN for awarding me this grant and to the Chrysalis Fund at the Ventura County Community Foundation for funding it," she said. "Sometimes it can be risky. You'd rather somebody already had a dataset, but this initial work has to be done in order for us to ask these important questions."
A native of St. Kitts and Nevis, Dr. Maynard came to a career in the lab via a longstanding fascination with science and the human body. Although she initially considered medical school, when she learned as an undergraduate at Howard University that she could still help people by focusing solely on research, she was sold.
She went on to a PhD program in translational biology at Baylor College of Medicine, which nicely dovetailed her passion for research with a focus on real world outcomes, especially health disparities.
As research programs continue to focus on bringing in scientists from different backgrounds, she's optimistic that projects will reflect the diversity of the workforce.
"If you're from South Africa, you want to understand things about South African patients," she said. "If you're from the African American community, you want to learn about that population. So, those people are more likely to push those kinds of questions and make sure the resources are available to do so."
Eventually, Dr. Maynard is optimistic that patients will see benefits in terms of better methods for early detection and treatment.
"My hope is that if we can have a more diverse population set – in my case, I'm looking at Black and white – when a patient gets diagnosed, we can say, 'You fit this profile and it's probably better you get this therapy,'" she said. "Or maybe we realize a direct link to some type of exposure and we can limit those exposures to prevent a disease in the first place. We will only know if we actually look. That's where I'm beginning to work – to observe and see what we can learn."
Donate today
so PanCAN can continue to fund research and provide free support to patients and families faced with pancreatic cancer. Your gift will make a difference in continuing progress.