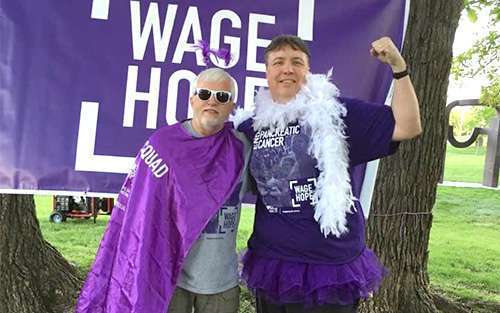 Editor's note: Mike Linse of Oklahoma and Andrew Miller of Oregon met through their mutual dedication to the Pancreatic Cancer Action Network. Both are volunteer leaders in their local affiliates and are on a PurpleStride tour this year (Andrew is blogging about his experiences). They are traveling to 16 different walks between the two of them, plus three additional ones where they'll meet up. The two were introduced at PurpleStride Las Vegas in the spring and have forged a tight bond. We sat down with them to get to know them better and get answers to a few burning questions, like: What's the best PurpleStride costume you've seen…and worn?
Mike, Andrew: Why are you involved in this cause?
Mike: My wife, Julie, passed away of pancreatic cancer. Her grandmother died of it, too. I think our daughter and granddaughter could be at risk, so I'm involved to make sure they don't get this disease. Also, I like spending my weekends with purple people!
Andrew: My coworker Cheryl Norman passed away of the disease in 2013. Her memorial service coincided with PurpleStride Portland, and it was there that I learned more about the seriousness of pancreatic cancer. I felt that it was important for me to volunteer with the Portland Affiliate, as Cheryl had. Since then, I've made great friends through volunteering, and I stay energized to do more, thanks to these incredible people.
Why are you attending so many PurpleStride walks?
Mike: In 2015 at our annual Leadership Training for us volunteers, someone from Iowa said they were having a hard time getting volunteers to help at their event, so I said, "I'm only eight hours away – I'll help you!" I really enjoyed it!
Andrew: I enjoy volunteering at my local PurpleStride, but I also like seeing what other cities do and learning from other volunteers. It's also just really fun!
How did you select the cities?
Mike: Within a day's drive was my initial criteria. Then people said, "Mike, why aren't you coming to ours?" So I'm driving to most of them this year but flying to three.
Andrew: It's just been a domino effect for me. I really love getting out there and meeting as many people as I can.
What is your favorite PurpleStride city you've visited?
Mike: I love them all! And that's almost 20 PurpleStrides.
Andrew: Too early to say. And I don't want to get in any trouble!
Do you have a pre-PurpleStride prep routine?
Mike: I do a little research beforehand, mainly checking the weather at my destination and finding the best route to get there.
Andrew: The night before, I make sure I eat well, go the gym and get a good night's sleep.
What's the most unique thing you've seen at a Stride?
Mike: Disney princesses.
Andrew: The Dragon Slayers team in Portland was very cool.
Favorite PurpleStride snack food?
Mike: Apples.
Andrew: The pizza at event set-up!
Best costume you've seen at a PurpleStride?
Mike: A Vegas act – Blue Man Group – at PurpleStride Las Vegas. Except it was Purple Man Group. Complete with body stockings. I'll leave it at that.
Andrew: A rogue thief with a full cloak, straight out of a sorcery movie. Also, a dragon slayer – that was really cool.
Best purple costume you've worn?
Mike: At PurpleStride Atlanta, a T-shirt that said, "Kiss My Pancre-ass."
Andrew: I'm strictly Mr. Formal. I only wear the signature Stride T-shirt.
What would you guys most like to know about each other?
Mike: I learned everything I need to know about Andrew in Las Vegas!
Andrew: With Mike, I always wonder if he's telling the truth or exaggerating. Is he pulling my leg? I never know!
What's your favorite part of PurpleStride?
Mike: Interacting with people.
Andrew: The positive energy and the memorial wall.
Least favorite part?
Mike: Hmmm. Maybe the weather, occasionally.
Andrew: When coffee isn't there early in the morning. We're there super early!
What's your favorite shade of purple?
Mike: Dark royal
Andrew: I'm an engineer – I don't think of purple as a color. Is dark blue purple a color?
What makes PurpleStride unique versus other walks?
Mike: All the purple!
Andrew: We purple people aren't going away – we're gonna keep at it until there's no more pancreatic cancer!
What famous person would you love to see at PurpleStride?
Mike: I'll have to think about that one. Andrew, who do you think?
Andrew: I want former Vice President Joe Biden to show up. I'd be tickled to death to see Vice President Pence, too.
What is your favorite PurpleStride T-shirt?
Mike: I loved the one with the state of Oklahoma on it – it's an oldie but goodie.
Andrew: I'm nostalgic for the PurpleStride I went to in Seattle in 2014, so I love that shirt. I got so much inspiration there.
What's your tried and true way to get PurpleStride donations?
Mike: I enjoyed working with a local restaurant to donate a percentage of sales to my PurpleStride team.
Andrew: I'm going to host a table at my office to raise money. The engineer in me is always trying to figure out new ways to do that! 
What other causes are special to you?
Mike: I want to volunteer with Stephenson Cancer Center in Oklahoma. Just waiting to hear back.
Andrew: I volunteer through my job – we get time off to go read with children in the Portland elementary school system.
What word best describes PurpleStride?
Mike: Empowering.
Andrew: Affirmation.
Why should people attend PurpleStride if they have one nearby?
Mike: It's such a tremendous experience. I can't imagine not going.
Andrew: I can't think of a better answer than Mike's!
Curious where Mike and Andrew have been and where they're going? See their PurpleStride schedule below. Find them and other passionate Purple People by attending a PurpleStride near you!
Mike Linse – Advocacy Chair of the Oklahoma Affiliate
Las Vegas – March 25
Chicago – April 29
Kansas City – May 6
Oklahoma – June 3
Omaha – July 29
Louisville –August 12
Boise – September 9
Minnesota – September 16
Iowa – September 23
Philadelphia – November 4
Atlanta – November 11
Orange County – November 18
Andrew Miller – Teams Ambassador of the Portland Affiliate and Volunteer Advisory Council member
Las Vegas – March 25
Phoenix – April 1
Kansas City – May 6
Cleveland – June 10
Detroit – June 17
Denver – June 25
Louisville – August 12
Charlotte – September 9
Portland – September 23
Puget Sound – October 29