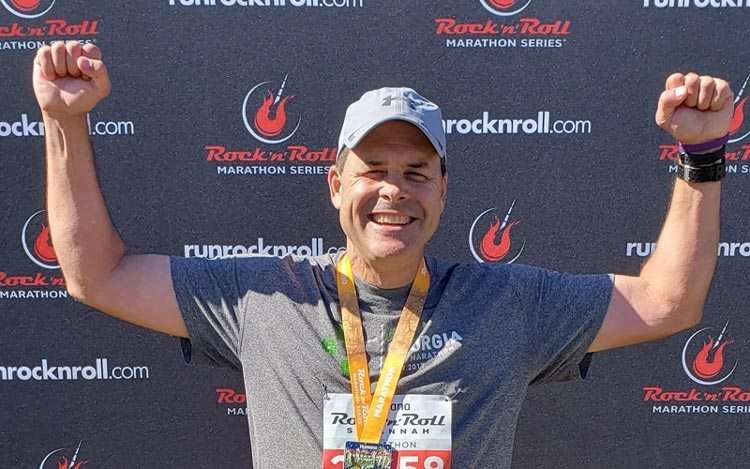 Editor's note: For today's installment of our 2018 Year in Review series, we're showcasing some of the year's most creative fundraisers. Way to set the bar high for 2019, everyone!
Wage Hope My Way, the DIY fundraising platform of the Pancreatic Cancer Action Network (PanCAN), saw its share of unique fundraisers in 2018. Gyms, ice cream parlors, blues concerts and luaus served as settings for DIY fundraising events to help end pancreatic cancer. We are grateful to everyone who turned their passion into progress to improve patient outcomes today and double survival by 2020.
Honoring a Legacy with a Luau
For more than a decade, Brad Yavornitzki has been inspired to host Hawaiian Luau each year to raise money for charitable causes. PanCAN became his charity of choice after his father, John, was diagnosed with pancreatic cancer in 2014.
"My father had a determination to live life to the fullest, surrounded by family and friends. He did not let his diagnosis derail his zest for life," said Yavornitzki. "He was an inspiration to his family – to always do what's right and be considerate to others. He was loved by many for these reasons."
Yavornitzki lost his father in 2016. "He was a true warrior and a champion to inspire others," remembered Yavornitzki. Inspired by his father, Yavornitzki continues to honor his legacy with the annual Luau. "Each of us can make a difference and give hope to those who fight and the ones in our hearts."
Sundae Stroll for 'Family Cheerleader'
Robin Kiewatt lost her mother in 2012, just 61 days after diagnosis. To honor Cheryl Foltz, her family's 'cheerleader,' Kiewatt launched a 5K walk/run – with a delicious twist.
The Sundae Stroll 5K ends with ice cream covered in 'Passionately Purple Sprinkles' at the Sundae Station, where her mom loved scooping up treats for guests. The sixth annual Sundae Stroll was held on June 23 to help keep Cheryl's spirit alive and as Kiewatt says, "To fight the fight she never had a chance to win."
A Purple Party Celebrates Life
Held in honor of his dad, Brock Cordeiro's unique Purple Party featured performers from King Richard's Faire in Carver, Mass., including a group of pirates who sing sea shanties, the Brethren Order of the North East Sea. Volunteers from the Pancreatic Cancer Action Network – Boston Affiliate and the American Cancer Society staffed information tables and a food truck donated its services.
"My Purple Party was a way to celebrate life and have some fun while raising awareness of pancreatic cancer," said Cordeiro.
Rise Against Cancer
Late last year, Dani Williams lost her mom at 61, only two months after diagnosis.
"Before her diagnosis, I had never even heard of pancreatic cancer, let alone knew the devastating statistics," said Williams. "After losing her, I knew that I wanted to do anything I could to help the fight against such a horrific disease."
Williams brought an idea to her gym for a fundraiser – Rise Against Cancer – created a Wage Hope My Way page, and on a snowy day in April, raised more than $4,600 for PanCAN.
Rock 'n Roll Marathon Showcases Top DIY Fundraiser
Jeff Poynter had been running half marathons for a couple of years. When two of his close friends were diagnosed with pancreatic cancer in 2018, he decided he had to do something bigger – he started training for a full marathon.
In November, Poynter ran the Rock 'n Roll Savannah Marathon, and along the way he became the top Wage Hope My Way fundraiser of the year, raising $43,897 for the fight against pancreatic cancer.
"This journey has been an incredible experience for me, and I have learned so much along the way," said Poynter. "I love my friends, Cliff and Donna, very much and am so proud of them for their fight against this horrible cancer."