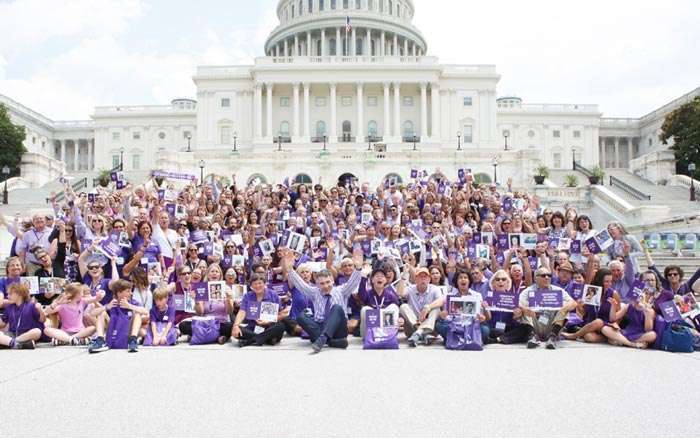 Editor's note: Our advocates shine in today's installment of our 2018 Year in Review series. See how they significantly increased pancreatic cancer research funding this year.
Pancreatic Cancer Action Network (PanCAN) advocates achieved a big win in 2018 when Congress passed a combined Defense and Labor-HHS funding package for fiscal year 2019! The package included a $2 billion increase for the National Institutes of Health (NIH) and a $179.1 million increase for the National Cancer Institute (NCI).
This is the fourth year in a row that Congress worked in a bipartisan manner to increase medical research funding, providing much-needed resources for pancreatic cancer research. Even more exciting, Congress funded the NIH for the year before the Sept. 30 fiscal year deadline for the first time in nearly two decades!  We couldn't have achieved this without you, our dedicated advocates.
Why Is Advocacy Critical?
Approximately 80 percent of pancreatic cancer research funding comes from the federal government, which makes the work of PanCAN advocates crucial to fulfill the goal of improving pancreatic cancer survival rates.
Thanks to the thousands of advocates who sent more than 29,000 messages in support of increased funding, a more robust pancreatic cancer research field will lead to greater progress and more scientific breakthroughs in the fight against the world's toughest cancer.
The Department of Defense (DoD) has funded important pancreatic cancer research grants through its Peer-Reviewed Cancer Research Program since 2011, and due to PanCAN advocates' actions, pancreatic cancer was once again included as a disease eligible for funding. For FY19, the program received $90 million – a $10 million increase over last year!
Other Advocacy Highlights
More than 530 participants, including nearly 100 survivors, attended to take PanCAN's message to Capitol Hill. Through this impactful event, advocates sent a strong and unified message to Congress that resonated throughout the rest of the year.
Capitol Hill turned purple for World Pancreatic Cancer Day! Forty-four members of Congress responded to over 7,500 messages from supporters who asked their elected officials to wear purple on Nov. 15.
The persistence and perseverance of PanCAN's grassroots army all year-long kept pancreatic cancer issues at the forefront on Capitol Hill. Because of your phone calls, meetings and messages, Congress has helped save more lives by prioritizing cancer research funding once again.