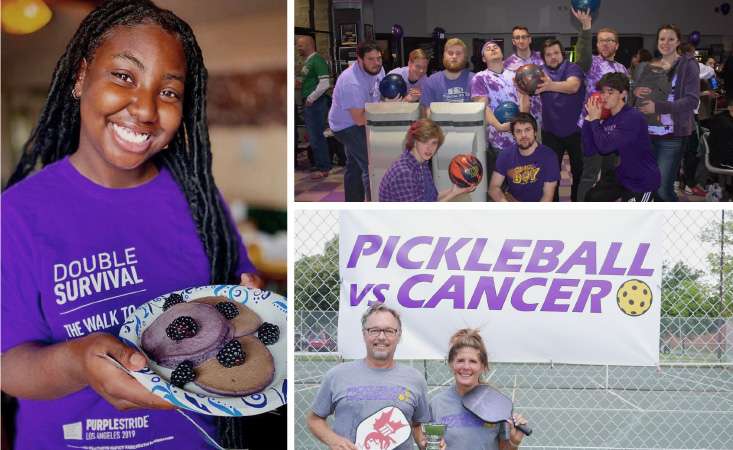 Fundraising for PanCAN PurpleStride is one of the most exciting ways to get involved in your local event. It just takes a little creativity to put together a foolproof plan to hit your goals.
Because we want everyone to experience the rewarding feeling of reaching Grand Club (raising $1,000 for PurpleStride), we've come up with a list of four fun ways to bring in $1,000.
But first, make sure you've set up and personalized your PurpleStride fundraising page. Pages that are personalized raise, on average, three times more money than those that aren't. For complete instructions and ways to make your page stand out, check out these PurpleStride resources.
Here are four fun, easy and unique ways to raise $1,000 for your PurpleStride event before the year is up.
1.) The Costume Cup (perfect for Halloween!)
You don't even have to leave the house to host your very own Costume Cup. Here's how it works: Ask friends and family to sign up for your virtual/online costume contest for a suggested donation amount. They'll get decked out in their best costume and send you one picture. You'll then post all the images you've collected on Facebook or Instagram and ask your followers to vote on who is the best dressed. Ask each contestant to share on their personal social media page to encourage more votes. In the post, make sure to include a link to your PurpleStride fundraising page so that people can donate if they'd like. Create your trophy (think Stanley Cup-type trophy) and fill it with the winner's favorite Halloween candy.
(Creative Ideas: Make it more fun and do a pet costume contest. Fill the cup with dog bones for the winner instead. Or do a best human/pet combination costume contest.)
(Helpful Hint: Give people one free vote and an opportunity to donate for more votes.)
2.) Beyond The Bake Sale
Bake a difference by hosting an online bake sale with goodies from professional bakers. Ask 10 bakeries to donate five items (a cake, a pie, a dozen cupcakes – you get the idea). Have them email you a quality photo of the item they're donating with a colorful description and any specifics to help it sell (ingredients, how many it serves, etc.).
Set up a Shopify store using their free 14-day trial and sell your items for $20 each. Host your bake sale over a couple of days leading up to Thanksgiving, Hanukkah, Christmas, Kwanzaa or any other holiday you like to celebrate. Make sure to include a donation link in your store so people can donate in addition to all the yummy baked goods they are buying. Once the sale is complete, pull a report and send the orders directly to the bakeries for fulfillment.
(Creative Idea: Include some gluten-free and vegan items in your sale. To make the sale extra sweet, gather some friends and offer to personally deliver the items to each buyer's home. Make sure to include a thank you card and an invitation to join your team.)
(Helpful Hint: Include a thank you section in your store that has each bakery's logo with a link to their website, as well as their social media handles. This will encourage more bakeries to give if they are being recognized for their contributions.)
3.) Acts of Kindness Challenge
After you've created your PurpleStride team and individual pages, ask team members to share their page via Facebook to ask followers to give. For each donation you receive, you'll do one act of kindness. The bigger the gift, the bigger the act. If 50 people make a $20 donation, you'll have raised $1,000 and will have done 50 things to make this world a little better.
(Creative Idea: Share a photo of each kind act you do, tagging the person who donated.)
(Helpful Hint: To grow the reach of your post, edit your privacy settings to public and use creative hashtags. You may get some new donors who like what you're doing.)
4.) Host a Tournament
Putting on a fun tournament in your backyard is easier than you think. Pick your event (euchre, cornhole, badminton, bocce ball). Decide how many teams you can accommodate and set your price accordingly. If you can fit 20 teams of two, price a team at $75. That gives you a budget to buy snacks, drinks and prizes for the winners.
Send an invitation to anyone you'd like to attend, put it on their Outlook or Google calendars, and set up a Facebook event for more details. Make sure to accept donations at the event for anyone who wants to support the cause even more.
(Creative Idea: Include obstacles to make the events more challenging and give teams the option to donate to remove the obstacles.)
(Helpful Hint: Collect an email address for each attendee and send them photos from the event, along with the link to your team or personal fundraising page. Encourage them to join your team if they haven't already.)
Register for a PurpleStride
near you today and start fundraising to reach Grand Club status! PurpleStride events nationwide will be held on one big day – April 30, 2022.
This article written by PanCAN PurpleStride Columbus Chair, volunteer and fundraiser Jamie Foltz.