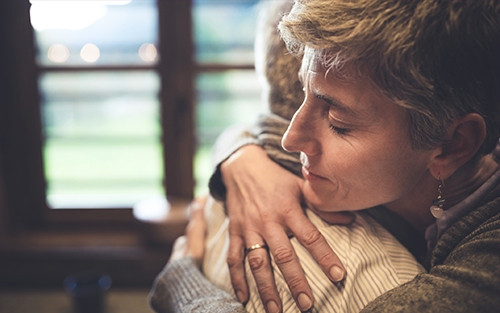 Current events tied to a crisis or the pain and suffering of others can leave many feeling anxious, depressed and stressed. A pancreatic cancer diagnosis for you or a loved one, or side effects from treatment or the disease, may compound these feelings.
The Pancreatic Cancer Action Network's PanCAN Patient Services offers information on coping with stress.
Here are four tips for patients, caregivers and others having these feelings:
Keep self-care at the top of your to-do list. Eat balanced meals and if you are able, make time for exercise, which can boost your spirits and reduce stress. Take advantage of massage, aromatherapy, hot baths, naps or other activities that soothe you. Express your feelings through art, music and/or journaling. Self-care also includes acknowledging your feelings – give yourself permission to feel pain, sadness or fear. Working through emotions is important, but so is taking advantage of activities that help you relax and doing things you enjoy.
Connect with your support system. You don't have to handle this alone. It's OK to let close family and friends know that you may need to lean on them a little more in the coming weeks. The Pancreatic Cancer Action Network is also here for patient and family support with a full range of one-on-one services, including a Survivor and Caregiver Network. You may also want to consider connecting with a professional counselor for support.
Be comfortable saying, "No." Stay busy if you need a distraction, but otherwise don't push yourself too hard. Know that you don't have to participate in everything you're invited to. People will understand if you say, "No, thank you."
Try to stay in the present. Life is full of changes, but take stock of what is important in your life right now and what is good about these times.
During any time of year, contact a PanCAN Patient Services Case Manager at the Pancreatic Cancer Action Network for information, resources and hope. They are available Monday – Friday, 7 a.m. to 5 p.m. Pacific Time.