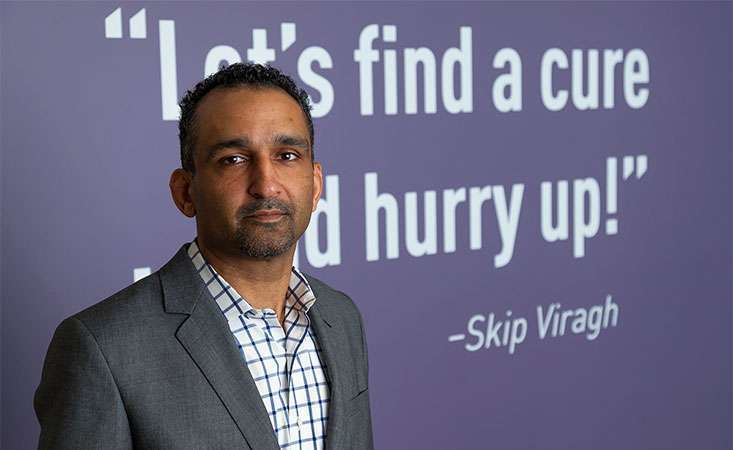 The Pancreatic Cancer Action Network (PanCAN) has hired its first Chief Data Officer, Sudheer Doss, PhD. Sudheer is responsible for all data across the organization, including health data and corporate data. He will develop a vision and strategy for how to create business value through data and technology, and inspire an organizational culture that uses data and information to make decisions. He plays an integral role in ensuring the organization continues to accelerate progress on all fronts, including advancing PanCAN's research and clinical initiatives, patient services and advocacy efforts.
Here are 5 things to know about Sudheer Doss:
1. He's always been interested in science.
Sudheer's interest in science and technology began as a young student. But, it was the first genetics course he took at the University of California, Los Angeles (UCLA) that really sparked his passion for the field.
"That played a big role by pulling me into that next level of interest'" he said. "It was at that point that I knew I wanted to do this for the rest of my life," he said.
2. His passion for all-things-science-and-data is reflected in his educational pursuits.
While at UCLA, Sudheer earned his bachelor's degree in microbiology and molecular genetics. He went on to receive a PhD in human genetics and bioinformatics.
3. He's working to better leverage the data PanCAN generates into digestible information that will be used to improve decision-making and help drive the pancreatic cancer field forward.
Sudheer will work with all of the data generated from both the business and health data sides of PanCAN to maximize its value in order to better serve the pancreatic cancer community, including patients, physicians, researchers and PanCAN itself.
"Data and analytics are playing bigger a role in the healthcare space, particularly in oncology," he explained. "On the business side, it's important for us to know as much as possible about the patients we interface with so we can maximize their experience with PanCAN. On the science and clinical side, we are generating a wealth of clinical and genomic information that is related to our patients. One major goal is enabling PanCAN to get all of this information into the hands of researchers as quickly as possible so we can generate new insights on the disease."
4. While the chief data officer role is a first for PanCAN, Sudheer has done this type of work before.
"My focus over the past few years has been to hone in on how different organizations use their data in ways that help them achieve their strategic imperatives and generate value for their organizations," he said.
He added that he saw joining PanCAN as a way to improve patient lives. During his studies, he worked from a research perspective. For more than a decade, he was a consultant, where he worked with a variety of companies on a multitude of strategic initiatives. In his role with PanCAN, he will use his expertise to analyze patient and operational data to impact the pancreatic cancer community for the better.
"I'm excited to harness the power of all this data, especially because PanCAN is on the verge of launching some very innovative initiatives – like Precision Promise – that will generate new data for us," he said.
5. He views the fight against pancreatic cancer as a group effort, where PanCAN researchers, volunteers, patients, donors, advocates and staff all play important roles.
"I'd like to thank all our supporters for their engagement with PanCAN," he said. "I urge you to please stay engaged. Together we can Demand Better and make progress in beating this disease. And we can start by doubling survival by 2020."
Watch Sudheer's full interview from Facebook Live.