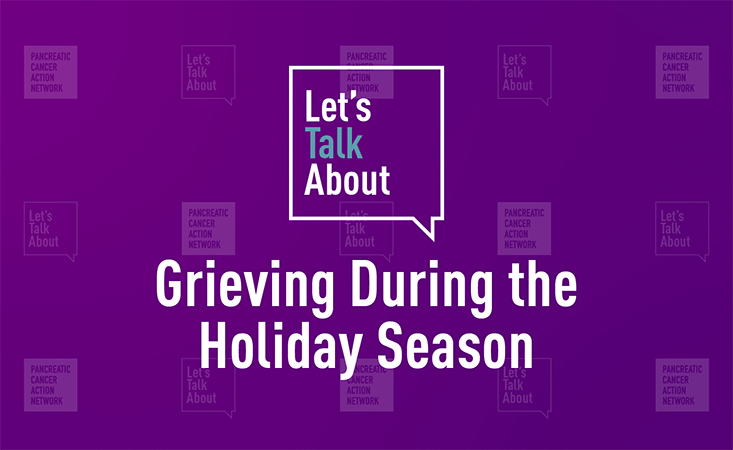 The "joy of the season" can be difficult to feel at this time of year if you're a cancer patient, caregiver or if you've lost a loved one.
Nicole Feingold, MA, Senior Director of Patient Services at PanCAN, said that while holiday stress is perfectly normal for much of the population, it can be particularly overwhelming for people who are dealing with cancer or managing loss.
"This time of year is all about celebrations, family gatherings and generally positive, festive feelings. But due to a diagnosis, loss, and the ongoing pandemic, it can also be isolating, depressing and completely out of step with what are the expected feelings," Feingold said. "There are so many emotions wrapped up in the end-of-year holidays. It's completely normal to experience a wide range."
PanCAN Patient Services offers information on coping during the holiday season. Here are five tips to keep in mind.
Keep self-care at the top of your to-do list. Eat balanced meals and if you are able, make time for exercise, which can boost your spirits and reduce stress. Take advantage of massage, aromatherapy, hot baths, naps or other activities that soothe you. Self-care also includes acknowledging your feelings – give yourself permission to feel pain, sadness or fear. Working through grief is important, but so is taking advantage of activities that help you relax.
Connect with your support system. You don't have to handle grief alone. It's OK and even important to let close family and friends know that you may need to lean on them a little more in the coming weeks. PanCAN is also here for patient and family support with a range of one-on-one services, including a Survivor and Caregiver Network.
Be comfortable saying, "No." Stay busy if you need a distraction, but otherwise don't push yourself too hard. Know that you don't have to participate in everything you're invited to. People will understand if you say, "No, thank you."
Consider making new holiday traditions. This year may be different than previous years – accept that it's OK. It could be good to start new traditions. You'll get to decide how to spend your time and with whom. Limit exposure to certain places, events or people that may lead to stress. Consider starting a new tradition of helping others – volunteering, "adopting" a family during the holidays, etc. – which will make you feel better, too.
Try to stay in the present. Life is full of changes, but take stock of what is important in your life right now and what is good about these times.
Remember that you can't force yourself to feel a certain way just because the holidays are here. But you can take time out to care for and celebrate yourself.